Music at Madison cabaret marks 15 years of singing from the heart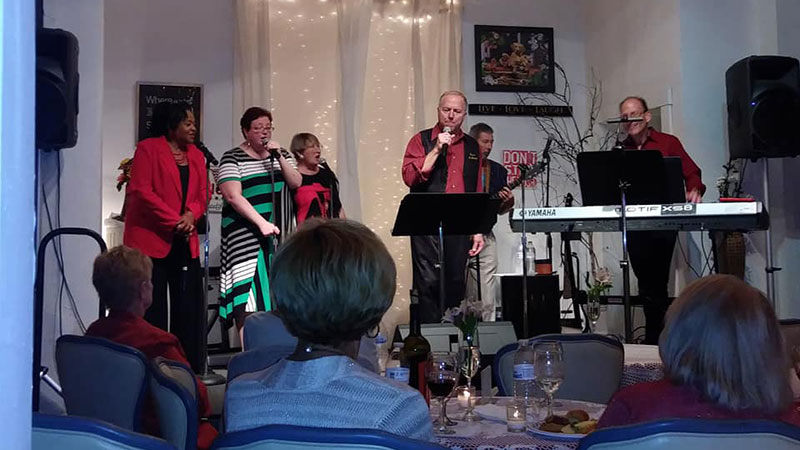 ---
If You Go
What: Music at Madison's 15th anniversary cabaret show and dinner
When: Saturday (dinner at 7 p.m., show at 8 p.m.)
Where: Dorian Books, 802 Elm St., Youngstown
Tickets: $40 (includes show and dinner). Reservations required. Call 330-743-2665
By KAITLIN FUSCHILLO
YOUNGSTOWN
Sometimes the greatest gifts come from the worst hardships.
Fifteen years ago, when Rodd Coonce returned from Los Angeles to take care of his ill mother, he met Jack Peterson, who was renting space in Youngstown for his bookstore. Coonce knew that Peterson was always worried about being able to make rent for the month and suggested the two of them come up with an idea to make extra cash.
While he was in Los Angeles, Coonce and some other actors took part in performances at a local piano bar, so he decided to bring some of that magic to Youngstown.
The result – the Music at Madison cabaret – was a hit from the start. The shows take place on the third Saturday of every month at Dorian Books on the North Side.
To mark the series' 15th anniversary, Coonce and Peterson will present a special show this Saturday (St. Patrick's Day), with a dinner catered by Mascarella's.
All of the shows have a special ambiance that includes lights, linen-covered tables with flowers and candles, and food, usually a potluck dinner.
Each features two or three performers and a theme that can range from Songs of the '60s to Elton John to a potpourri where anything goes.
However, there are three songs that are performed every time. Each show is opened with "Thank You for the Music" from "Mamma Mia!," with "America the Beautiful" sung before intermission, and "If We Only Have Love" from "Jacques Brel is Alive and Well and Living in Paris" at the end.
"Each of these songs has a very special meaning," said Coonce. "'Thank You for the Music' is to remind the audience of our purpose, 'America the Beautiful' is for our country, and 'If We Only Have Love' is for the world to learn the power of music."
And it's clear that Youngstown is learning the power of music, as the cabaret has a lot of customers who keep coming back. Three of those regulars – Peg Tobey, Jacque Harvey and Bonnie Clemente – spoke of the shows with enthusiasm and love.
"Rodd is an amazing entertainer and you can see how much he cares," said Tobey. "The show just gives you such a big boost. It's an amazing show with fantastic performers, and it's always a great night out."
Harvey said the shows are uplifting and personal. "Anyone who's in the audience will get honored," he said. "Actually, every single year Rodd plays a special piece for the anniversary of my wife and I, even since she passed. He's just simply one of the best. I can't say enough." Clemente shared that sentiment.
"Whether it's people in their late 20s, or their late 80s, Rodd just elicits so much emotion from the entire audience," she said. "He's just such a wonderful person and that really comes out in everything he does."
Each of these three have been attending Music at Madison shows for at least 10 years and have brought their friends. Each time, they said, the response is the same: their friends love the show and never want to miss one.
One of the most amazing things about the performances is that there is no age limit.
"The youngest performer we've had was only 3 years old, and the oldest was 76," said Coonce. "It's something that can reach so many people."
Coonce admits that he has benefitted the most from his shows. He loves the sense of community that the show brings. The atmosphere just feels like home.
"This sounds corny, but I look out into the audience, and I just genuinely love these people," he said.
"I moved back from LA thinking 'Okay, no more performing. But honestly, this is the proudest thing I've done in my whole life."
More like this from vindy.com