Monarch butterflies are in need of way stations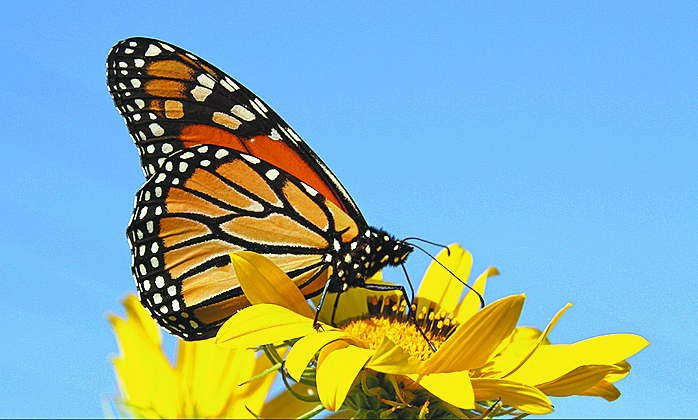 ---
By HUGH G. EARNHART
OSU master gardener volunteer
CANFIELD
Ohio's interstates are littered with rest stops, fast-food establishments and gas stations – all that is necessary to sustain a weary-free traveler.
These nourishment establishments, for the vehicles we drive and the people who ride in them, are way stations for people who move about the state. What would travel be like if these fueling sites were not available?
Let's hypothesize that you want to drive/migrate on Interstate 71 from Cleveland to Cincinnati – a distance of nearly 250 miles. Within the 1-71 corridor, there is a major breakdown in fuel delivery, electrical failures and widespread disruption of services. This situation would suggest that you have no idea where the gaps in service are located.
What are your choices?
You could leave the interstate in hope of finding the necessary fuel/food or you could just plow ahead and pray there were resources forward.
If the gamble turned sour and did not improve, you suddenly would find yourself stranded on the roadside along with thousands of cars and trucks and along with people in desperate need of help. They, also, gambled that help was just ahead.
Now surmise you are a beautiful, healthy Monarch butterfly and you are forced by hereditary to migrate North in the spring along 1-71 landscape in which an abundance of milkweeds and nectar sources are found in some places, but large areas with no milkweed or nectar plants.
How would these gaps (ecologists call them fragments) affect Monarchs?
Here are some questions that come to mind. Would some starve? Would females simply lay fewer eggs? Is the pace of migration slowed? Is balance and direction compromised by the lack of way stations?
These questions bring to our attention that little is known about the physiological capacity of Monarchs. Ultimately, we need to know how their lifestyle is affected by the large gaps in the landscape that lack resources.
In Ohio, at the last count (December 2016), there were 791 Monarch way stations or about nine per county. What is important is not only the number, but how resources are distributed across the landscape used by the Monarch in migrating across Ohio.
The vast prairies and grasslands that were once the home for Monarchs have been replaced by farms, cities and their attendant sprawl. The Monarch way station program's aim is to encourage people to create resources that fill these gaps.
Just like earlier trains required way stations to take on coal and water to cross the landscape, and the pony express had way stations so riders could change horses every 10 miles, the Monarch also needs way stations just like we do along our journey.
Consider planting a Monarch way station this summer that is necessary for the survival of this butterfly and registering your way station with: monarchwatch.org/waystation/registry.
More like this from vindy.com