Iconic and long-lived Earth, Wind & Fire is a blend of forces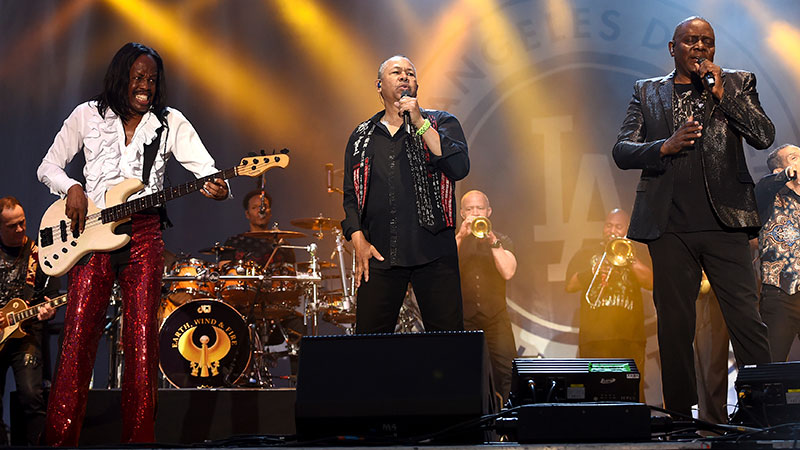 ---
If You go
Who: Earth, Wind and Fire
When: Friday at 7:30 p.m.
Where: Covelli Centre, Youngstown
Tickets: $45.50, $55.50, $65.50 and $95.50 (plus applicable fees) at ticketmaster.com, by phone at 1-800-745-3000 and at the box office.
Staff and wire report
YOUNGSTOWN
Earth, Wind & Fire will return to Covelli Centre on Friday for its fourth visit in the past dozen years. As usual, expect a capacity crowd for the groundbreaking act, whose blend of horn-driven funk, R&B, jazz and African rhythms has been a unique force in American pop music since 1970.
The concert will include all of the classic hits, including "September," ''Shining Star," "Serpentine Fire," "Let's Groove," "That's the Way of the World" and "Boogie Wonderland."
While the legendary band has played Youngstown in 2006, 2010 and 2012, Friday's concert will be its first since the 2016 death of its founder, Maurice White.
"We're still healing," said drummer Ralph Johnson, one of three original members, in an interview last year with the Associated Press. "I think the way we've dealt with it has been to do the music."
Maurice White stopped touring with the act in 1995, but his presence was always there.
"It's not something you get over. Maurice will always be part of us. We cut our teeth on Earth, Wind and Fire. He was our mentor, our leader, our Elvis, our John Lennon, all in one guy," said White's brother, Verdine.
In addition to Johnson and Verdine White, EWF also includes fellow original member Philip Bailey.
The band has been touring on and off for more than a year. The current leg will include a two-week residency at a Las Vegas casino in May and will then head to Europe at the end of June.
Earth, Wind & Fire was inducted into the Rock and Roll Hall of Fame in 2000, played the 2005 Super Bowl halftime show and has six Grammys. The band's "Got to Get You Into My Life" was on President Barack Obama's first Spotify playlist.
Each generation seems to rediscover the band, in part because popular culture can't get enough of its bouncy vibe. In one weekend in November of 2016, the band had three songs in the world's top two movies – "Trolls" and "Doctor Strange."
"We're part of peoples' lives. As they say, 'the soundtrack of their lives' – literally," said White. "They always want pictures: 'Can I take this for my dad or my mom?' 'Will you sign this for my dad?' We get that all the time."
Satellite and classic rock radio keep the band's hits alive and online services such as iTunes, SoundCloud and Shazam have made their work accessible. A band that started on vinyl turns out to be thriving in the digital age.
"They can get to us. They can discover us. And rediscover us and rediscover us and turn a friend on to us," said White. "So when we're doing the concert, they're Googling and they're buying songs they didn't even know that existed. So actually I think it's been a big help."
Earth, Wind & Fire proves that nostalgia acts are still reliable tour sellers.
"I think people will always be enamored with bands that can really play – live performance. You can't beat that," Johnson said. "There's something you get from a live performance you can't get from a record or a CD. The experience is very different."
How long will they keep at it? Until the boogie wonderland stops.
"Maurice wanted a band that could play all genres of music and a band that would not be standing still onstage. We're always in motion, there's always something going on," said Johnson.
"We're just carrying on the vision. This is the legacy. The three of us – Verdine, Philip and myself – we're carrying on for as long, as I tell people, we put butts in the seats."
Material from the Associated Press was used in this article.
More like this from vindy.com