Document says Claudia Hoerig confessed killing her husband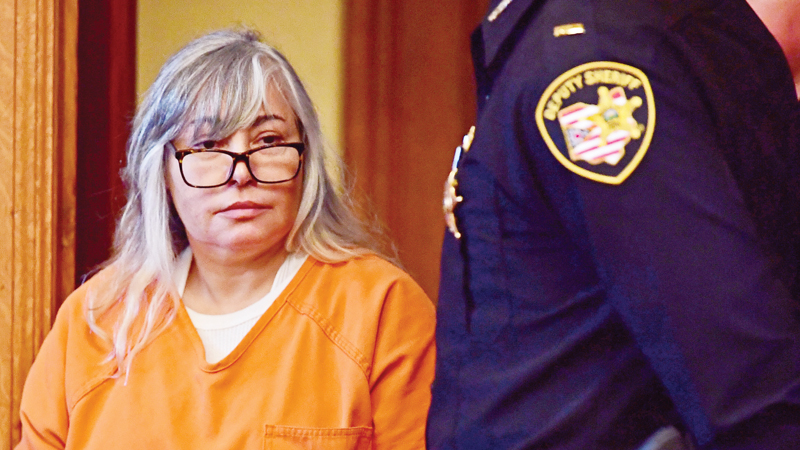 ---
By Ed Runyan
WARREN
Documents filed by prosecutors Tuesday in advance of a hearing today in the Claudia Hoerig aggravated-murder case say Hoerig confessed in January that she killed her husband, Karl, in their Newton Falls home in 2007.
On Jan. 17, as federal marshals flew her back to the United States from Brazil, Hoerig began engaging two agents in "general conversation" that led to a remark that: "A wife does not kill her husband without a good reason," a document from the U.S. Marshal's Service says.
She went on to say she "suffered from mental and sexual abuse" at the hands of her husband. News reports out of Brazil indicated earlier Claudia Hoerig's defense might be to claim she killed her husband because of abuse.
Claudia Hoerig told U.S. Marshals on the airplane she was about to kill herself the day of Karl's murder, but she killed him instead out of anger.
She then tried to kill herself using a wooden device designed to hold a gun, which was mounted in a bedroom closet – but the gun would not fire, she said. She called her father in Brazil, and he talked her into fleeing back home.
The report says on the day of her husband's death, she told him she was pregnant, and they argued. She said she stood in the hallway of their home and threatened to shoot herself.
Claudia Hoerig, 53, told the marshals her husband told her to do it in the basement "so she didn't get blood on the paintings and carpet."
"Hoerig stated Karl started to walk down the stairs and that she was so angry that she shot him. She said she shot him three times and she was sure he was dead," the report says.
She claims she lost the baby.
When Hoerig arrived that January night at the Trumbull County Sheriff's Office, Bill Boldin of the U.S. Marshal's Service and Detective Mike Yannucci of the sheriff's office interviewed her after reading her her rights. She agreed to talk without an attorney.
"I have the right to stay silent. I know that," she said in excerpts of the interview included in the filing.
She said she didn't kill herself the night of the murder "because I started thinking about my family." She also described her plans to jump off of buildings once she was back in Brazil, "but for some reason things did not work out for me."
She met a farmer about three months after she returned to Brazil and has remained in a relationship with him since then, she said.
Hoerig was returned to Trumbull County after nearly 11 years of work by county Prosecutor Dennis Watkins and others to return her from her native Brazil.
Her trial is set for April 16 because Ohio law requires her to be tried within 90 days of her arrest unless she waives that right.
Her attorneys filed a motion recently asking Judge Andrew Logan of Trumbull County Common Pleas Court to dismiss her charges based on their interpretation of her rights to have a speedy trial.
A defense filing says she was arrested April 20, 2016, in Brazil, and has been incarcerated since then. They argue that the clock on her 90 days should have begun then, not this January.
Tuesday's filing said arguments for dismissing charges against Hoerig ignore that it was Brazil's decision to keep her in Brazil an additional 21 months after she was jailed there.
Hoerig sued the Brazilian government, not Ohio or the United States, for her detention in a Brazilian prison, the filing says.
The filing's 195 pages contain a number of exhibits showing the efforts of the prosecutor's office, U.S. Marshal's Office and other officials to work with federal officials to bring Hoerig back to the United States.
More like this from vindy.com