Students pine for pie on Pi Day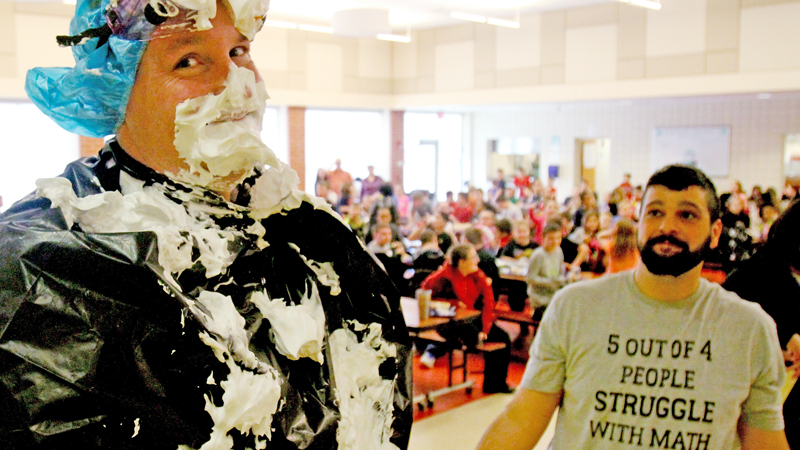 ---
By Billy Ludt
AUSTINTOWN
Mike Sauner knew what he was having for lunch Wednesday: pie.
The Austintown Intermediate School principal came to work prepared. He donned goggles, a hair net and trash bag over his torso because he wasn't eating the pies – he was the target of them.
"It just gives you a chance for students to see my personality," Sauner said. "If the kids get a good laugh in the middle of the day, then I'm all for it. But it also gives them the chance to challenge themselves with a bit of competition."
Wednesday marked the 30th anniversary of Pi Day (3/14), and to celebrate the infinitely repeating numeral, AIS transformed into Mathopolis.
The floors were divided into different math-themed municipalities, such as Array Ville, Angle City and Fraction Land.
In Angle City, the floors were taped off for students to determine the angle of certain shapes.
Most of the teaching staff at AIS found ways to participate in Pi Day, Sauner said, including English teachers.
"The kids were successful, and that's what matters," Sauner said.
Despite his protective outfit, Sauner walked away with a face full of shaving cream.
The Pi Day activities were organized by AIS's math teachers and math coaches. Each grade level at the school received a class-wide math problem to solve. If they found the correct answer, their names were entered into a raffle.
Then three students were selected at random per grade level to throw a pie at Sauner.
Fifth-graders were given a math problem involving street lights that cycled at differing periods of time. They needed to determine how long all the street lights were on at the same time.
Fifth-grader Sophie Hunter said she was excited to be selected.
The school lunchroom exploded into cheers when Hunter's pie landed square in Sauner's face.
More like this from vindy.com