SCHOOL WALKOUT | Area students protest gun violence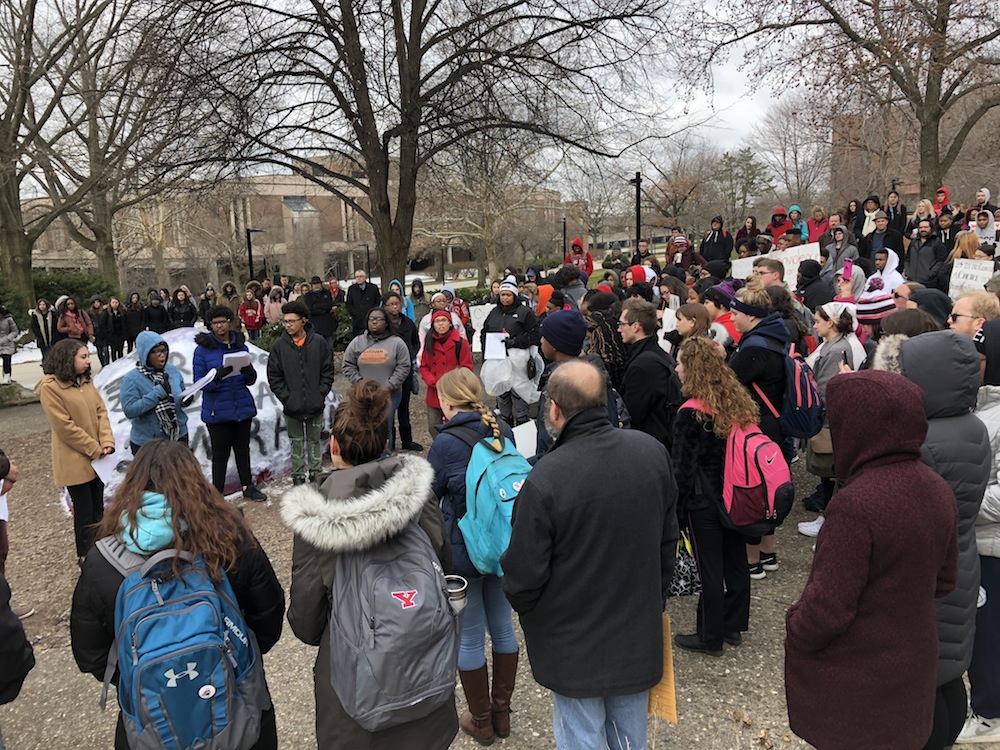 ---
Youngstown State University
More than 100 Youngstown State University students gathered around the rock on YSU's campus to demand gun reform and remember those who died in the shooting at Marjory Stoneman Douglas High School in Parkland Florida one month ago.
Students from Youngstown Early College organized the event along with the Student Government Association.
Ernie Barkett, Vice President of YSU's SGA, urged students to register to vote and to vote out lawmakers who resist change.
Area school walkouts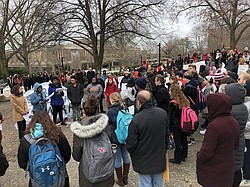 Gallery
"We want our representatives to make the change we want," Barkett said. "Vote for those who cannot because they lie murdered in their schools, in the streets and in their houses of worship."
The event included a moment of silence and a reading of the names of the victims of February's shooting.
Chaney High School
Students observed a moment of silence as the names of the Parkland victims were read. One student said he was taking part in the protest because "I care from my heart."
Hubbard High School
Students honored the victims of the Marjory Stoneman Douglas High School shooting with a candlelight ceremony. Fourteen students took turns to speak about the 14 student victims and three teachers spoke about the three teacher victims.
They each lit a candle on stage in the victim's memory.
Mayor John Darko urged students to come to him when they need help or someone to talk to.
Student Council member Lukas Mosora said the student council decided to honor the victims with their tribute instead of walking out as some schools are doing around the country because they felt it was more meaningful and productive.
Lordstown High School
Students sporting orange policy and chance shirts walked out of of their school equipped with letters to bring with them to Washington D.C. to give to legislatures.
Emma Crissman, senior student, said she's excited to deliver the letters.
Campbell Memorial High School
At least 150 students participated in the walkout to protest gun violence.
Boardman High School
five high school seniors walked out of the building in support of the 17 victims of the Parkland, Fla., shooting.
The students said by walking out they will be punished by having to go to "Saturday school," and stay in a room for four hours.
"I feel the movement is important enough to walk out," said Leigh Carabbia. "The administration not wanting us to take a stand is despicable."
Sophia Justice said the school's lockdown safety drill today "is a completely tone deaf action on behalf of the administration. They should not inhibit our protest and by doing this lockdown they are completely undermining the entire meaning of the walkout movement."
Canfield High School
No students walked outside of Canfield High School today for the National School Walkout Day to protest gun violence at schools and remember those who died in school shootings.
Buses at the school blocked entrances this morning and Canfield Police were posted in front of the school.
Poland Seminary High School
Eight Poland Seminary High School students walked out of their school at 10 a.m.
Although they could face discipline for walking out of class, the students said it wasn't a difficult choice.
They want to see changes to gun laws, such as raising the age at which people can buy guns.
They said they do not feel safe at school.
They also said they plan to continue to call for change after National Walkout Day is over.
The school also observed a moment of silence and made the gym available for students who wanted to privately reflect.
The school is now hearing from state Rep. John Boccieri of Poland, D-59th.
Howland High School
Students assembled in the high school gymnasium at 10 a.m. but mostly stood around talking with each other for around 10 minutes before these girls moved to an open space in the gym and asked everyone to be silent and respect the students who died in Florida last month.
More like this from vindy.com