UPDATE: SCHOOL WALKOUT | 'Enough is enough': US students stage walkouts against guns
Associated Press
Warning that their futures are being stolen from them, tens of thousands of young people across the U.S. walked out of school to demand action on gun violence today in one of the biggest student protests since the Vietnam era.
Braving snow in New England and threats of school discipline in places like Georgia and Ohio, they carried signs, chanted slogans against the National Rifle Association and bowed their heads in memory of the 17 dead in the Feb. 14 shooting at Marjory Stoneman Douglas High School in Parkland, Fla.
"We're sick of it," said Maxwell Nardi, a senior at Douglas S. Freeman High School in Henrico, Va., just outside Richmond. "We're going to keep fighting, and we're not going to stop until Congress finally makes resolute changes."
Area school walkouts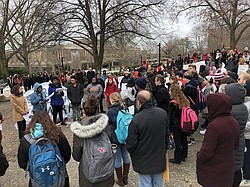 Gallery
Across the country and beyond, students were urged to leave class at 10 a.m. local time for 17 minutes – one minute for each of the dead in Florida. At some schools, students didn't go outside but lined the hallways, gathered in gyms and auditoriums or wore orange, the color used by the movement against gun violence, or maroon, the school color at Stoneman Douglas.
Over and over, students declared that enough is enough, that too many young people have died, and that they are tired of going to school afraid of getting shot.
"I don't want my mother or my father having to worry about me going to school getting an education and then my life is gone," said Leticia Carroll, a 15-year-old freshman who helped organize a walkout of more than 100 students at Groves High School in Beverly Hills, Mich., outside Detroit.
She added: "We need answers. We need something done."
Alexia Medero, a 17-year-old at Parkland High School outside Allentown, Pa., said the issue has too easily fallen by the wayside after past tragedies.
"Families are being torn apart, futures are being stolen, lives are being lost. But we must ensure they are not forgotten," she said.
In joining the protests, the students followed the example set by many of the survivors of the Florida shooting, who have become gun-control activists, leading rallies, lobbying legislators and giving TV interviews. Their efforts helped spur passage last week of a Florida law curbing access to assault rifles by young people.
More like this from vindy.com