Airline interested in providing service to Youngstown-Warren
VINDICATOR EXCLUSIVE
By Kalea Hall
VIENNA
Ashley Air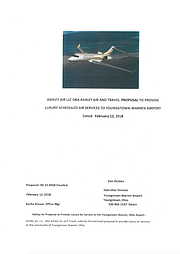 Document
Ashley Air proposed air services to the Youngstown-Warren Regional Airport
Ashley Air LLC has submitted a proposal to the Youngstown-Warren Regional Airport to offer services to the leisure destinations that Allegiant Air ended this year.
Members of the Western Reserve Port Authority's Aviation Committee talked with John Ashley of Ashley Air during its Tuesday committee meeting.
"[We want] to give you back the service that you just lost," Ashley said during a conference call with the committee on Tuesday.
The Atlanta, Ga., charter company has proposed "luxury air services" of 12 flights a week each to Sanford/Orlando, Fla., Myrtle Beach, S.C. and Tampa/St.Petersburg, Fla.; and flights to Tunica, Miss., three times a week.
Ashley has two planes – one 50-seat jet and one 70-seat jet – for the flights.
The flights will be operated by Elite Airways, which the airport was also in talks with for service.
"We look forward to returning the under-serviced, neglected community back to life," the airline's proposal reads.
John Moliterno, executive director of the WRPA, said what Ashley offers is a unique.
"They look at it as like an airline club," Moliterno said. "If you participate in a membership, you get a discounted rate."
No action was taken by the committee Tuesday on the proposal.
Ashley Air was founded in 2012 as a vacation and charter company that offers vacations and private charters worldwide. The airline would like to start service here this summer.
To start the service, Ashley has requested funds for marketing and advertising from the airport for the first year. The airline would also like the airport to waive all airport fees and charges, provide free ticket counter space, office space and hangar space for the first year.
This week, Moliterno and Dan Dickten, aviation director at the airport, are at the Volaire Air Service Forum in Myrtle Beach and will meet with the head of Elite Airways.
The airline is discussing with Elite service between Youngstown and Newark Liberty International Airport in Newark, N.J.
In early December, Southern Airways Express of Mississippi came to Youngstown to discuss potential service to Coleman Young Airport in Detroit and Baltimore-Washington International Airport.
Allegiant ended its service after 11 years at the local airport in January. Allegiant came to Youngstown-Warren in 2006 with service to Sanford/Orlando, Fla. In 2011, Myrtle Beach, S.C., and St. Petersburg, Fla., flights were added. In 2013, the local airport received its fourth Allegiant flight to Punta Gorda, Fla.
More like this from vindy.com