Columbiana school board hears from public on arming teachers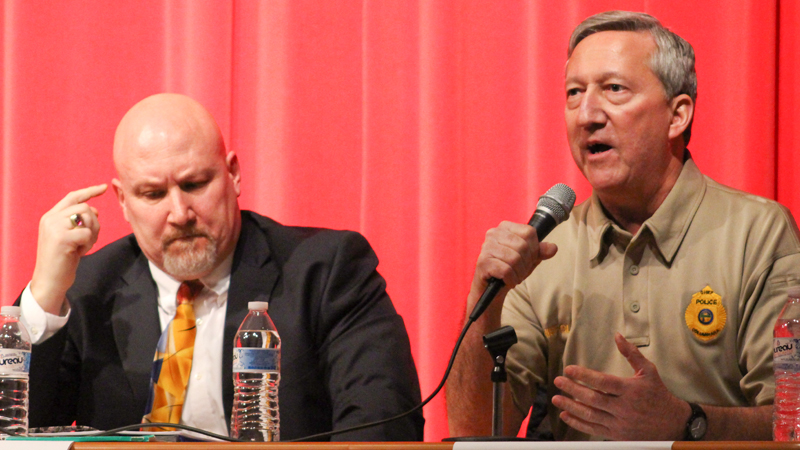 ---
By Billy Ludt
COLUMBIANA
Residents were split on the issue of arming teachers during a public hearing Tuesday evening.
"It's hard to apply logic to an illogical situation," said Tim Gladis, Columbiana police chief.
Columbiana Village Schools Board of Education hosted the hearing to get input from residents on a possible resolution to give teachers the option to earn concealed-carry weapon licenses. No action was taken Tuesday on the resolution.
Gladis said there is no one solution to school security. Where arming teachers might fill one gap, he said, another would be left open.
"It's more than just hiding a weapon on your person and having it there," the chief said. "The purpose is not to make [teachers] into police. We want to de-conflict these processes so they're not a surprise to anybody, so we don't get ourselves into a situation where bad things can happen just through a lack of training."
Currently, the village police department has one officer who is trained as an SRO, but the officer no longer works in the schools. There is, however, a DARE officer in the schools who is planning to train for the state SRO certification.
The police department has administered active shooter training for school staff, as well.
"I would like to say that your input is necessary for us as a board to collaborate on a security plan that suits our students and our staff," said board President Kelly Williamson. "You live here; your children, your grandchildren, they are in the care of this school most of the day."
A nationwide discussion of whether teachers should be armed was sparked by the mass shooting at Marjory Stoneman Douglas High School in Parkland, Fla., on Valentine's Day.
"Guns are not toys. It is a huge responsibility to be in power – to carry a life-saving or a life-taking device," village resident Joseph Landsberger said. "They are for our children's safety and our staff's safety. I say we arm teachers, and the reason is that every day we send our little ones out – to sometimes with strangers, sometimes friends and family. But we need to support them. We need to secure them."
Landsberger, a retired veteran, pitched the idea of forming a team tasked with focusing solely on school security.
Residents suggested that giving teachers and staff the option to be armed could be a deterrent itself.
"We already ask a huge amount of our educators to invest in our children socially, emotionally, intellectually, and now we're adding the psychological burden of security," Matthew Peterson said.
Peterson argued that police officers dedicate their time to training for this type of psychological preparation, and are versed with firearms.
"I'm very in favor of security in the school, but I don't think that's the relationship we want to foster between our students and our educators," Peterson said. "Just to be frank, this would really make me pause about whether I want my children in this school system."