Mohip: I'm still committed to district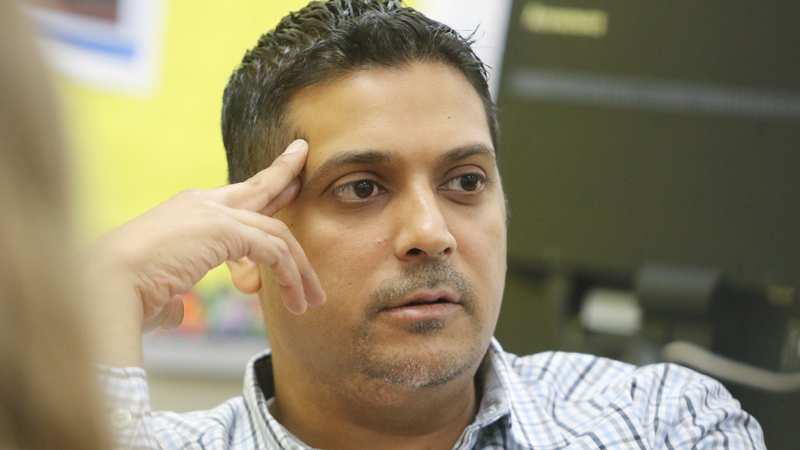 ---
YOUNGSTOWN
Youngstown City Schools CEO Krish Mohip says he stands by statements critical of the community and school district he made during Boulder (Colo.) Valley School District interviews.
"I'm still committed to this district," Mohip said during a Monday interview with The Vindicator. "We are doubling down more than anything. ... The focus is on our children – it doesn't matter what happens to me."
Brenda Kimble, board of education president, said if Mohip stays with the district, it won't be because he chooses to, but because he didn't get the job in Colorado.
"He just hasn't been truthful here or with Boulder," she said.
Boulder Valley posted four of Mohip's interviews on YouTube this weekend.
View clips of the videos here.
Mohip was put in place by Ohio House Bill 70, commonly referred to as the Youngstown Plan, which was signed into law by Gov. John Kasich in July 2015.
It enabled a state-appointed academic distress commission to hire a CEO to lead the district. The bill gives Mohip complete operational, managerial and instructional control. He refers to the elected school board as an advisory board.
"It's an interesting job," Mohip said during one of the interviews with members of the BVSD community about Youngstown schools. "It's like nowhere else in the country. ... It's not a space I necessarily want to be in, but I took that job only because I felt like it was the only way to save public education for that district. I knew it was never going to be a long-term plan for me. It's too difficult of a job for one person to do."
Although during the interview Mohip stood by that statement, he did say HB 70 was necessary.
"[It] was needed for progress to be made," he said.
A controversial topic that came up during one of the interviews with BVSD was about money.
"You just can't throw money at a problem and expect to fix it," Mohip said in a BVSD interview. "That won't improve instruction and close the [achievement] gap."
Mohip's spending in Youngstown, however, has been a hot topic discussed at several school board meetings.
Board member Jackie Adair contends she will not pass another levy to support Mohip's extreme spending. "He has been spending like a drunken sailor," she said. "He's been working diligently on bankrupting us."
And Kimble contended Mohip's agenda was "to tear down, destroy and charter."
During Wednesday's Academic Distress Commission meeting, Mohip said the cost to set what he calls a "strong foundation" has resulted in spending about $8 million over budget, but still does not put the district in a deficit.
Because the district has a beginning balance in fiscal year 2018, which began July 1, 2017, of $24.1 million, it will not go into debt. The $8 million overage will deplete the $24.1 million to $16 million.
The $24.1 million carryover is a result of a cash balance that accrued at the end of each fiscal year for at least the last four years when the district brought in more revenue than it spent, district officials said.
"We spent this money because of the severe needs in this district," he said. "We can't not fix them."
That's the difference in spending and "throwing money around," Mohip said.
"We are investing appropriately," he added. "All of our spending is aligned with what is put in place with our strategic plan, and we have great results to show for it. Student academics are up and suspensions are down."
Students showed double-digit growth in the winter 2018 test scores compared to scores from the same tests in fall 2017, according to a Feb. 21 district news release.
The Northwest Evaluation Association reading scores increased 18.23 percent for the winter tests, and NWEA math scores increased 14.94 percent.
The average math scores went from the 23.39 percentile to the 26.89 percentile. The average reading scores went from 27.73 percentile to 32.79 percentile.
In August, The Vindicator reported a 42-percent decrease in high-school students' days missed due to disciplinary issues after Mohip implemented Positive Behavioral and Intervention Supports and restorative practices. The process allows all students to receive education rather than exclusion for wrongdoing.
But Larry Ellis, YEA president, said the new student code of conduct wasn't fully doled out and teachers received half of the training to make it effective.
"We have a piece [of training] here and a piece there and not the correct support system in place to make it work smoothly," Ellis said. "It's more than creating a discipline code and slapping it on a piece of paper."
In the 2015-16 school year, high-school students missed 7,424 days over disciplinary practices. After Mohip implemented the system, in 2016-17, students missed 4,324 days.
Mohip said getting good results isn't always the case.
"You can spend money and not get results," Mohip said Monday.
At one point – during his time in Chicago Public Schools – the district spent millions of dollars with nothing to show for it, he continued.
"It's about building sustainable practices so that success continues," he said. "We are spending to improve the student achievement level. ... It's strategic."
Another strategic aspect of Mohip's educational blueprints discussed during the BVSD interviews included special education.
Mohip told BVSD community members he is working in Youngstown under a corrective-action plan from the state to get special education in compliance with state laws.
"I'm trying to be nice, but everyone should've been fired," Mohip said about Youngstown during his BVSD interview. "How did they allow this to go on for so long? I'm really disappointed in state of Ohio [Department of Education] that they allowed that to happen for so long."
In June 2016, The Vindicator reported the district was noncompliant in its practices to address special-education students' needs.
Through professional development and the Multi-Tiered Support System interventions Mohip said he feels special education has greatly improved.
Another point of contention was Mohip's relationships with labor unions.
"I've had good relationships with labor unions," he said during his BVSD interview. "Coming to Ohio was a challenge. I had 31 [teacher] grievances and two unfair labor practices [complaints]."
But Kimble contended, "That's just not the case. He doesn't communicate well — we've got no information on anything going on in our district and it's been that way since the start [of his time in Youngstown]."
During his BVSD interview, Mohip said one of the unfair labor practices complaints was ruled in his favor regarding giving teachers raises.
"I wanted to give them a raise, and they didn't want it," he said to BVSD community members.
In May, the Youngstown Education Association teachers' union filed a charge against the CEO, asserting the district engaged in "direct dealing" and "public bargaining," when Mohip proposed to increase teacher salaries by 5 percent, according to State Employment Relations Board records.
SERB dismissed the charge from May on Aug. 3, for lack of probable cause, according to SERB records.
Larry Ellis, YEA president, said the unfair labor practice charge wasn't about raises, but about barring access into the teachers' contracts.
"It gives [him] the power to take more," Ellis said. "We were trying to preserve what we had."
Mohip said he has a good instructional framework in place in Youngstown. He added that although he has made no definitive decision to stay or leave, he will remain in education in some form.
"I will just stay in education helping as many kids as I can," he said.
More like this from vindy.com