UPDATE | Interstate 80 west at state Route 46 is expected to reopen before 4 p.m.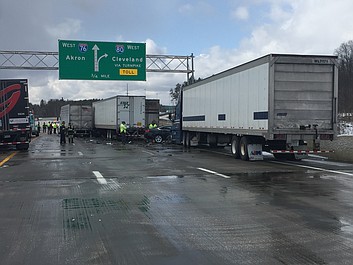 ---
NORTH JACKSON
A spokeswoman for the Canfield Post of the Ohio State Highway Patrol said Interstate 80 west at state Route 46 is expected to reopen before 4 p.m. after a series of chain reaction crashes just after 12 p.m. today sent two people to the hospital.
The crashes happened on Interstate 76 west, and took place during a series of sudden snow squalls.
The Ohio Department of Transportation advised drivers to use Mahoning Avenue to get on the interstate at the Bailey Road exit.
The Austintown Fire Department dispatched trucks to respond to the crash.
Traffic on I-80 at one point this afternoon was backed up to the state Route 11 exit.
A truck driver on Interstate 76 west said a sudden snow squall that caused a multi vehicle accident was blinding.
"It was basically a whiteout," said Keith Smalls of Michigan 
Interstate 76 west has been closed since the accident over the meander reservoir.
Lt. Jerad Sutton, head of the Canfield Post for the Ohio State Highway Patrol, said there was an initial two-vehicle accident just off the bridge that spawned two other multi-vehicle accidents. 
There was a six-vehicle accident involving three semis then an 11-vehicle accident involving seven semis.
Sutton said two people were transported to St. Elizabeth Youngstown Hospital with "serious injuries" but are not considered life threatening.
Sutton said speed and the weather are the two main factors that caused the pileup.
Site of crash
More like this from vindy.com