Harding teacher develops food pantry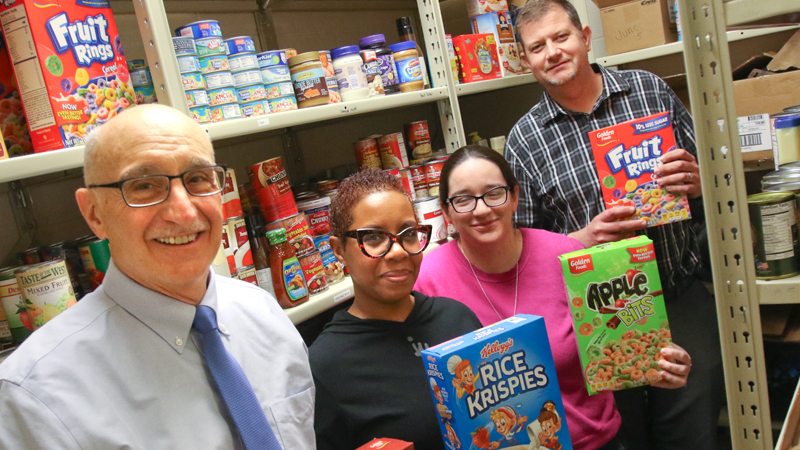 ---
YOUNGSTOWN
Harding Elementary's food pantry is getting filled, thanks to first-grade teacher Shannon Sefcik.
Sefcik said she simply saw a need in her students and set out to fulfill it.
"Sometimes I saw students come in Monday mornings, and they're hungry or they're coming in and they just can't get enough breakfast," she said. "So, we just started buying food and sending it home with the kids on weekends."
The blueprints of a food pantry had begun with Sefcik's efforts.
Stephanie Gilchrist, Inspiring Minds Youngstown executive director, said soon after the food pantry was started, she noticed students eating half of what they were given and taking the other half home.
"When I asked why they did that, they told me it was for their siblings, and that triggered me," Gilchrist said. "I thought, 'This is unacceptable. What happens when they leave us?'"
The next week, Gilchrist reached out to Second Harvest Food Bank.
"It was a no-brainer that there is a need for this in the school," Gilchrist said.
The need is not uncommon, said Michael Iberis, executive director of Second Harvest.
Second Harvest Food Bank serves 11 other school districts in Columbiana, Mahoning and Trumbull counties for their food pantries. The districts include Leetonia, Southern Local, Wellsville, Austintown, Boardman, Campbell, Southside Academy, Girard, Howland, Niles and Warren.
"We give credit to anyone like this in the school who wants to get involved and get aggressive about meeting certain needs," Iberis said. "A hungry child can't learn."
Harding Principal Rob Kearns agreed.
"Hunger and getting food is one of the basic needs behind making these kids successful," he said. "The more success kids have, parents have, the community has. Success duplicates and breeds itself. It's contagious. Success is contagious."
The food pantry is a fine example of Harding's success, Kearns added.
"This is just another way that makes our school a hub of the community," he said. "We consolidate resources, making it easier for parents to get them and students to access them."
Iberis said Second Harvest Food Bank tries to procure different types of food based on the needs of each pantry.
"We just have a lot of everything," Kearns said.
Second Harvest buys food with Harding's food pantry account at a discounted cost to fill the pantry.
One dollar can buy the same amount of food as $11 worth of food, Iberis said as a comparison to show the discounted rate Second Harvest Food Bank provides.
"It's a significant difference over retail, and you can secure it at one location which makes it so much easier on everyone – the school, the parents [and] the kids," he said.
Youngstown City School District spokeswoman Denise Dick said other schools in the district are looking into creating food pantries in their buildings, as well.
The experience of helping Harding's food pantry has been very gratifying, Gilchrist said.
"It's nice seeing the impact it has on the community as a whole," she said. "Man, it's that finished product. ... When kids are fed and full of joy and happiness with their smiles and are happier, you see a change in behavior."
To donate to help Harding's food pantry, visit Second Harvest Food Bank, 2805 Salt Springs Road, or contact Inspiring Minds at 330-469-6729.
More like this from vindy.com