Randle, Lakers too much for Cavaliers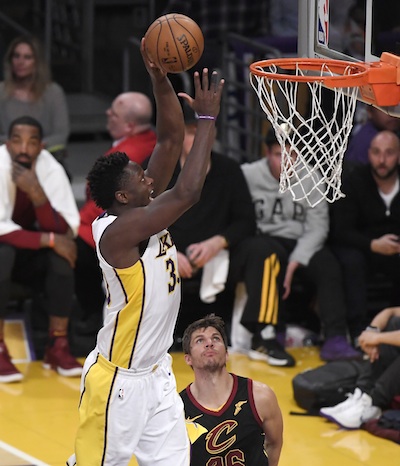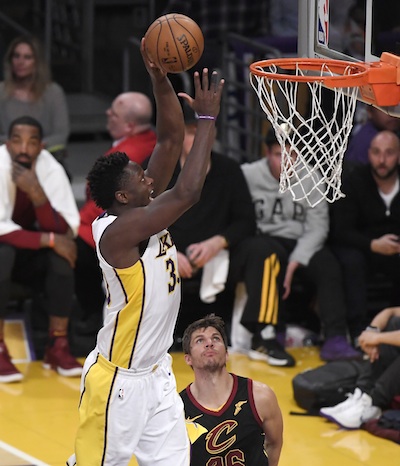 ---
Associated Press
LOS ANGELES
Julius Randle had a career-high 36 points, 14 rebounds and seven assists, and the Los Angeles Lakers auditioned for LeBron James' favor in free agency with a 127-113 victory over the Cleveland Cavaliers on Sunday night.
Isaiah Thomas had 20 points, nine assists and five rebounds against his former teammates as the Lakers roared away from James and the defending Eastern Conference champions in the second half. With its sixth win in eight games overall, Los Angeles (30-36) emphatically snapped a seven-game losing streak against Cleveland.
James had 24 points, 10 rebounds and seven assists for the Cavs, who have lost four of six after getting swept at Staples Center by the Clippers and Lakers.
The Cavs were no match for Randle, who produced one of the most impressive games of his career. The bruising forward scored 23 points in the second half and went 14 for 18 from the field overall before leaving to a huge late ovation.
Thomas also shone in his first game against the Cavs since they traded him to Los Angeles last month and ended their brief attempt to replace Kyrie Irving with the undersized scoring machine. He scored eight points in 2 1/2 minutes early in the fourth quarter to put the game away.
Starting center Larry Nance Jr. had 24 points and eight rebounds, and Jordan Clarkson added four points in their first game against the Lakers since they were traded for Thomas and Channing Frye on Feb. 8.
Brook Lopez scored 22 points for the Lakers, and Kentavious Caldwell-Pope added 20.
James put on his usual stunning display at Staples, including a breathtaking, one-handed pass late in the first half. But he spent the final minutes on the bench.
Magic Johnson acknowledged the Lakers swung last month's trade with Cleveland to get into prime salary-cap position to chase elite free agents this summer — and the top name on that list will be James.
More like this from vindy.com