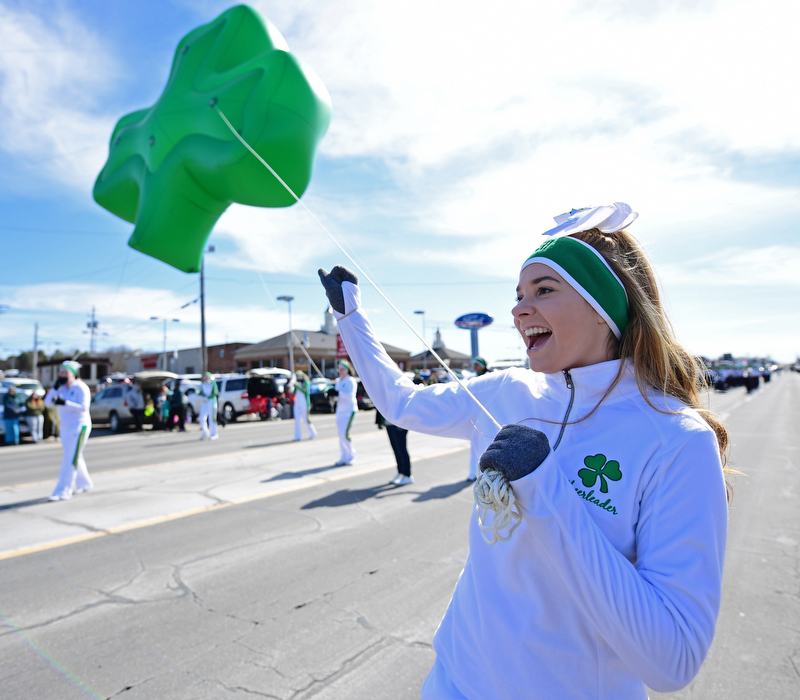 ---
The 40th Annual St. Patrick's Day Parade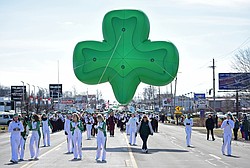 Gallery
March 11, 2018 was the 40th Annual St. Patrick's Day Parade in Boardman, Ohio. Photos are by David Dermer.
"Years Ago" - Sunday March 11, 2018

Gallery
Here is a photo gallery to go along with the "Years Ago" photo published in The Vindicator on Sunday March 11, 2018.
By Sean Barron
BOARDMAN
The pride on Pete Gabriel's face was palpable as he vividly recounted the movement a popular parade he helped start four decades ago has made during its march forward.
"It began as a radio promotion on my morning show. It's since blossomed and has a life of its own. What more could I ask?" Gabriel, a longtime area broadcaster, said, referring to the annual Mahoning Valley St. Patrick's Day Parade, which he is credited for having started in January 1979 on his radio program.
You might be correct in seeing a boomerang effect between the gratitude levied at Gabriel's efforts toward getting the parade he so heavily promoted off the ground and his having been named grand marshal of the 40th annual parade Sunday afternoon along Market Street.
The event's main sponsors were The Vindicator; 21 WFMJ-TV, The Vindicator's broadcast partner; and WBCB-TV.
Abundant amounts of sun, a slight breeze and temperatures in the high 30s were on tap for the parade, which followed a 1.5-mile route from McClurg Road to Southwoods Avenue along Market.
More than 10,000 people attended the event, which featured 186 units that included floats, marching bands and many local elected officials, noted Joyce Kale-Pesta, parade committee president.
"It's a great day for the Irish," Kale-Pesta said with a chuckle.
Gabriel said that on his morning program, he lamented that the region was devoid of a parade to recognize and celebrate the contributions of Irish culture to the Valley, then made abundantly clear the desire to take matters into his own hands.
"I asked [news director] John Nagy if there was a parade in town and he said no, and I said, 'I'm going to get a parade permit,'" he remembered.
Gabriel recalled that March 17, 1979, the day of the first parade, was sunny and about 70 degrees, and that more than 1,000 marched in the inaugural event. In the parade's early years, vehicles with sirens were distributed throughout the procession, which often drowned out the bands, so the decision was made to have such vehicles concentrated toward the front, Gabriel explained.
"After a little while, we learned what works and what doesn't. They got it down now," he said.
Gabriel added that it's "hard to describe" how thankful he felt for having been selected as grand marshal. He also expressed gratitude to committee members such as Kale-Pesta and Casey Malone, a radio and TV personality and the parade's director, for allowing the event to continue flourishing.
Green was the theme along Market Street, as thousands lined both sides of the road to watch everything from 14 members of the Ursuline High School cheerleading squad hold up a giant green inflatable shamrock to a collection of four Afghan hounds with green necklaces to several llamas to several students with Cornersburg-based Burke School of Irish Dance perform a series of step dances.
Among those taking in the slow movement of attractions was Tyler Divito, 6, of Streetsboro, who was decked out in a green Cleveland Indians ball cap and a green-beaded tie. Tyler came with his father, Tim Divito, and several relatives.
Vendors sold green merchandise that included acrylic hats, gloves, horns, pins and shamrock-shaped glasses.
Other honorees were Wally Dunne, a longtime educator and former parade president who was named 2018 Lord Mayor of Kilkenny; Bob Pushay, who founded Andrews Metal Products, a steel fabrication business, Ockerman Award recipient; and Nena Perkins, The Vindicator's community-events manager, Cleary Award winner.
Kale-Pesta didn't hesitate to praise Gabriel, who also was affectionately known as WKBN's "morning mayor," for being the driving force behind the parade's inception, as well as for contributing to its growth and success over the years.
"We would not be here without Pete Gabriel," she said. "He taught me how to do the lineup. I wouldn't know what I know without Pete."
The celebration continued during an after-party at the International Union of Operating Engineers Local 66 building on McClurg Road, where the top finishers in seven parade categories were announced.
More like this from vindy.com