Concealed-carry weapon permits down in Valley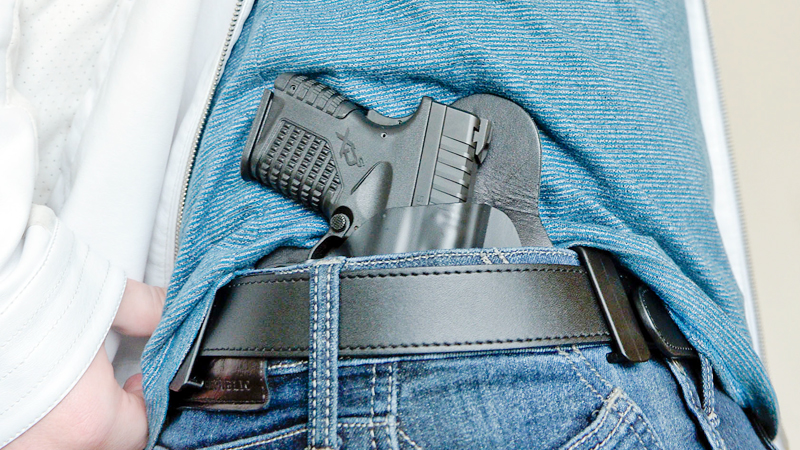 ---
By JOE GORMAN
jgorman@vindy.com
YOUNGSTOWN
The number of concealed-carry weapon permits issued in the Mahoning Valley declined in 2017, Ohio Attorney General's Office records show.
Those numbers also fell throughout Ohio. In 2017, the state issued 77,281 permits to carry a concealed weapon, down from 116,953 in 2016.
The trend carried through to Mahoning, Trumbull and Columbiana counties.
Mahoning County issued 1,992 permits in 2017, down from 2,840 in 2016; Trumbull County issued 949 permits in 2017, down from 1,469 in 2016; and Columbiana County issued 913 permits in 2017, down from 1,461 permits issued in 2016.
After five years, however, permit holders can apply to have their licenses renewed if they choose — and those numbers are up for all three counties in 2017.
Mahoning County Sheriff Jerry Greene said he did not have an answer as to why permit applications declined in 2017, but he said his office is busy processing applications after the school shooting last month in Parkland, Fla., that killed 17 and touched off a debate over gun control.
"Recently, we've been very busy," Greene said. "They've been swamped."
In Ohio, county sheriffs take the applications for CCW permits and then submit those numbers to the state attorney general's office. Included in the law when the permit process was approved by the Legislature in 2004 is a provision that the final numbers for the previous year must be submitted to the governor's office no later than March 1.
Columbiana County Sheriff Roger Stone and his counterpart in Trumbull County, Paul Monroe, both said they believe the number of permits declined in 2017 because almost everyone who wants a permit already has one. They pointed to the high number of renewals, saying that most people who get their permit want to keep and renew it before it expires.
Stone agreed with Greene that he has been seeing more requests for permits because of the shooting in Florida. He said that is not surprising because whenever a major event happens that has people talking about gun control, there's an increase in people seeking permits.
Monroe, however, said he was not sure if there was an increase in Trumbull County. He noted that people have to pass an instructional course before they can apply for a permit. He said it may take a few weeks before he can gauge the effect of the Florida shooting.
Monroe said he supports responsible, law-abiding people having the ability to defend themselves.
"The way our society is today, it's good that some citizens are armed," Monroe said.
More like this from vindy.com