Crawford, Stein, DelGarbino win state wrestling titles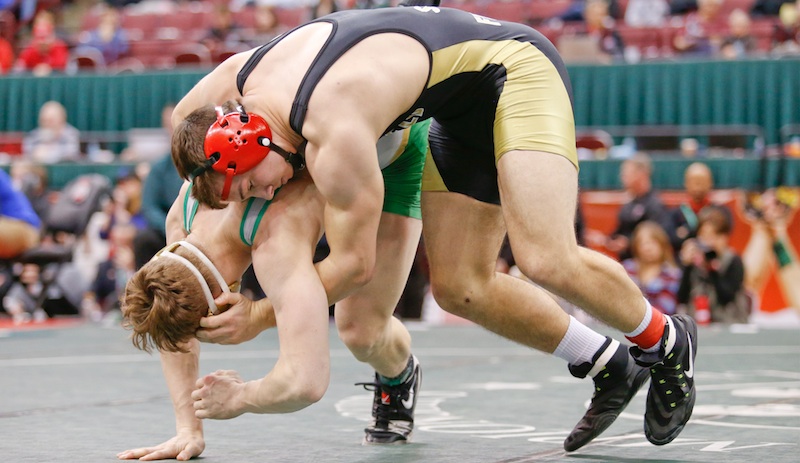 ---
State Wrestling Tournament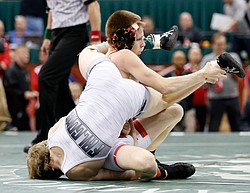 Gallery
The Division II Ohio state wrestling tournament took place at the Ohio State University on Saturday, March 10, 2018. All photos are by Paul Vernon.
By ERIC MAUK
COLUMBUS
Mahoning Valley wrestlers broke a lot of new ground during Saturday's championship round of the 2018 Ohio High School Athletic Association State Wrestling Championships, with three state title winners helping to set standards at their respective schools.
Canfield finished as the runner-up in the Division II team standings for the third straight year, with a Saturday push led by state crowns from 182-pound senior David Crawford and 220-pound junior Tyler Stein.
And just 38 seconds after Stein earned his state crown, Girard heavyweight Jack DelGarbino became the first wrestler in school history to win an Ohio high school championship with a stunning pin of Steubenville's Tyler Ely.
Crawford's 5-3 victory over David Heath of Akron St. Vincent-St. Mary made him the first Canfield wrestler to win two state championships, while Stein' s 7-3 win over Brandon Phillips of Maumee marked the first time that the Cardinals had earned multiple state wrestling titles in the same season.
"Everybody has worked their butts off in the wrestling room for this," said Stein, while celebrating his first championship. "Everybody works together, everybody pushes each other and we are all better for it."
DelGarbino punctuated an undefeated season with the quickest pin of the championship round, using his experience in Greco-Roman wrestling to shock Ely, as well as the crowd at the Schottenstein Center in Columbus.
The 285-pound Ely came hard at DelGarbino from the opening whistle, but the Girard wrestler accepted the force of the charge and turned the Steubenville senior, spinning him to the mat and pinning him to end the match.
"He came at me pretty hard and when he did, he opened up the throw," DelGarbino grinned. "He thought I would fall backward, but I knew that in giving a little ground the throw would be there. The key was that I had to be patient. It's a move that I practice a lot for Greco-Roman because you can score a lot of points if you hit it."
Crawford scored his points early in his victory in the 182-pound final, getting a takedown in the first 40 seconds. He gave up an escape to narrow the gap late in the first round, but got another to carry a 5-3 lead into the final period. The defending 170-pound champ stayed aggressive through the final two minutes and forced Heath to defend instead of chasing the two points he needed, holding the 5-3 advantage through the final whistle.
"I was really trying not to play defense alone in the third period, because if you lay back and start thinking about making it to the end, you can get beat," Crawford said. "I was trying to attack, but at the same time, you can't get reckless and take a stupid shot or make a mistake that can leave you open to a counter."
The senior finished his schoolboy career with four state places and two championships, making him the most decorated high school wrestler in Canfield history.
"It was my goal to repeat at state but there were some days that it was tough to focus on it because there were feelings that I had already accomplished it," Crawford admitted. "But we have a great program and it was easy to get back on track during those down days. This win feels just as good as the first one."
Stein followed his teammate's lead, getting an early single-leg takedown on his way to a 4-1 first-period lead. Phillips never got any closer over the next two periods despite Stein's having to take a break after the second period closed due to an inadvertent kick.
"I never like to take injury time because it makes you look soft," Stein lamented. "But I was trying to keep him wrapped up and he kicked out and got me in the groin. I was really tired and that didn't help, but I just listened to my coaches and tried to fight through it. I can't describe how good this feels right now, though."
Canfield's charge up the standings were paced by the two championships, but the Cardinals also got assistance from 170-pounder Anthony D'Alesio, who finished third with a 5-3 win over Shelby's Brahm Ginter, while Nick Crawford secured fifth place in the 195-pound bracket by stopping LaGrange Keystone's Justin Ocheltree 5-0.
The lone defeat for area wrestlers in Saturday night's state finals came when Beaver Local sophomore Cole McComas dropped a heartbreaker in the Division II 113-pound title bout. He took St. Paris Graham junior Tanner Jordan to overtime after fighting to a 3-3 score in regulation, but fell on a takedown with just three seconds left. The defeat marked the second straight season that McComas finished second in the state championships.
"The season didn't end the way that I wanted it to, but I wrestled my hardest and it just didn't work out," McComas said. "I stuck to my plan and tried to take advantage of what I could, but it didn't work out. I will get back in the wrestling room and start working on getting back here next year."
Meanwhile, next year at Girard there will likely be a shiny new sign commemorating DelGarbino's first state championship, and the junior heavyweight knows that sign could be the start of big things for the program.
"It means a lot because I've been in this Girard program since I was little," DelGarbino said. "I think it shows that if you work hard, you can earn a state title. I worked too hard not to win this, and the other guys can see that and hopefully it inspires them."
In all, 13 area grapplers left Columbus wearing new medals from this year's tournament, including Austintown Fitch's Gus Sutton (126 – 8th) and Michael Ferree (160 – 8th) and Breylon Douglas, who sealed his fifth-place finish in the 195-pound class with a Saturday pin of Cincinnati LaSalle's Michael Baker. The Falcons' wrestlers competed in Division I.
West Branch junior Christian Wayt overcame a badly bloodied nose to finish fourth in the 113-pound class, and Beaver Local sophomore Skyler Lasure used an overtime win as part of his Saturday march to a fourth-place result at 132 pounds. Both wrestled in Division II.
Howland's Brandon Matlock claimed the fourth spot in the 220-pound bracket in Division II while Crestview's Andrew Hardenbrook placed sixth at 145 pounds in Division III.
More like this from vindy.com