Seeking Youngstown's special Irishman
Puddler Poet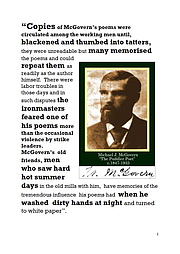 Document
Michael McGovern The Puddler Poet
The 40th annual St. Patrick's Day Celebration parade embarks today in Boardman, with Pete Gabriel front and center as grand marshal of the event he founded. Wally Dunne, Bob Pushay and Nena Perkins also will be honored.
On this day leading up to the official St. Patrick's Day, everyone gets a chance to be a bit of Youngstown Irish.
As we speak, a tiny place in Ireland is interested in a bit of Youngstown Irish, and is seeking some help.
Michael McGovern enjoyed many Youngstown St. Patrick's Days until his death in 1933 at 85.
But the people around McGovern enjoyed his poetry.
A puddler in the steel mill here, his job was to turn pig iron into wrought iron. But his writings became a clarion call for his co-workers amid some of the harshest days of the steel worker – mill owner era. Men worked 12- to 13-hour days, six days per week for small wages.
McGovern became "The Puddler Poet," celebrated around this region and around America. He was the Bruce Springsteen of his era, with words such as:
"I love to see the rays of light,
That from the furnace flow,
Like Phantoms in the arms of night
Quadrilling as they go
Parading o'er the valley when
The slumbering town is still
Oh, then I think there's beauty in
The shadows from the mill."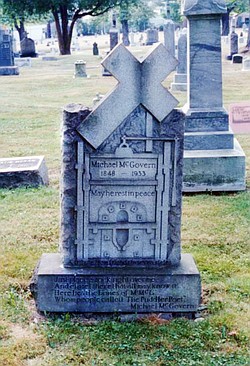 Jen Giblin

Photo
Michael McGovern's grave in Calvary Cemetery. Credit: Jen Giblin
When he died, he was buried in Calvary Cemetery. The McGovern Memorial Committee was formed to place a large stone for him. Steel managers, church leaders and union officials all contributed to the cost.
In tiny Williamstown, County Galway, the McGovern life and history is mostly foreign to them. A group, led by Irish journalist Jim Fahy, is working to change that.
McGovern is a Williams-towner. The wonder of how he came to such life moxie might be answered by his birth there: He was born in 1847, or Black 47, the worst year of Ireland's famine. He was in the United States by his 30s, and only returned home twice.
Some elders in Williams-town had knowledge of McGovern's shine here. But our heroes die, and so do their storytellers. For McGovern's storytellers, those folks never got to properly enshrine their brother.
Fahy and his friends at the Williamstown Heritage Society are making up for lost time.
"We want to create a greater awareness of his importance as a labor poet in the United States," said Fahy in an email.
Fortunately for their search, McGovern – a relation to singer Maureen McGovern – has a small but knowledgeable fan base led by Bill Lawson at the Mahoning Valley Historical Society. Last year, Lit Youngstown, a city literary club, hosted a night of McGovern work by Lawson.
Jen Giblin, a distant relative to McGovern, and Richard Quinn, of the Ancient Order of Hibernians in Youngstown have been feeding Fahy's friends' fervor.
It's fervor justified. McGovern's words were the right words at the right time.
Some of his words:
• "Send forth the words on spirit wings, that wealth no longer shall maintain, in this free land, its petty kings, with armed thugs to guard their reign."
• "Yet many a wandering, eager band, would never reached that 'promise land,' of wealth and fame and roses. For every glittering, golden hill, which lured them to persistence, deceived them by retreating still, into the gloomy distance."
• "Oh, every valve beneath control, of man's progressive skill; unlocks the music of my soul – the puffing of the mill."
A 140-page history of him is in a Fahy-created PDF that is linked at the left of this story.
Fahy hopes to publish a biography, erect a McGovern memorial or plaque in Williamstown, organize a summer school for his poetry and writings and connect with Youngstown in celebrating McGovern's life and in introducing him to a new generation of young people.
His immediate need is to locate any descendants in Ohio or Pennsylvania who might have memories or memorabilia to contribute to him. He is reachable at 1jimfahy@gmail.com.
If you want a bit of McGovern, the Puddler Poet, as part of your St. Patrick's Day charm, visit his burial site at Calvary.
You will read:
"Just place a rock right over me,
And chisel there that all may know it.
'Here lies the bones of M. McG.,
Whom people called the Puddler Poet.'"
Todd Franko is editor of The Vindicator. He likes emails about stories and our newspaper. Email him at tfranko@vindy.com. He blogs, too, on vindy.com. Tweet him, too, at @tfranko.
More like this from vindy.com