Lakeview finishes unlikely title run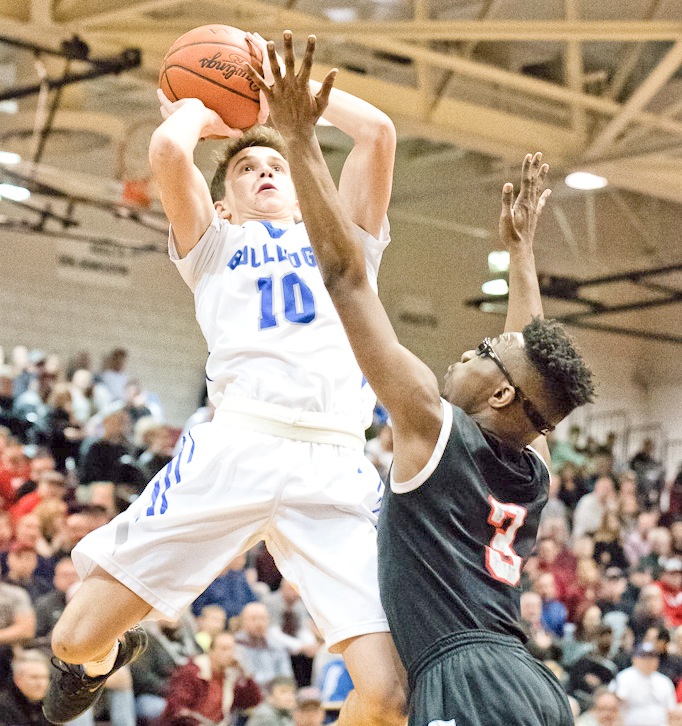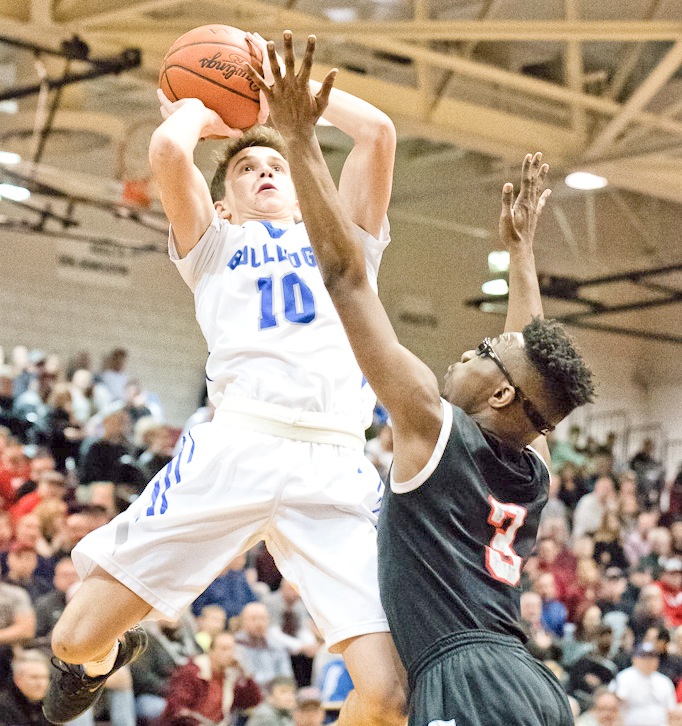 ---
Lakeview vs. Struthers Basketball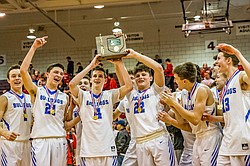 Gallery
The boys basketball teams from Lakeview and Struthers faced off in the Division II District Final in Boardman on Saturday March 10, 2018. Photos are by Dianna Oatridge.
By BRIAN DZENIS
bdzenis@vindy.com
BOARDMAN
Things are moving really fast for Lakeview's boys basketball team.
Coach Ryan Fitch was still getting over the fact his fourth-seeded Bulldogs were even in Saturday's Division II district final at Boardman High School while his team was cutting down the nets after beating Struthers, 72-59, to win said title.
"I'm still waiting for someone to wake me up and tell me we beat Poland," said Fitch, referencing his team's semifinal win against the tournament's top seed. "To beat Poland and then come here and beat Struthers is just two great wins for our program.
"It's going to take a while for that to sink in."
Lakeview will travel to Canton on Thursday to face Cleveland Villa Angela-St. Joseph in a regional semifinal at the Memorial Civic Center.
Struthers' run as the No. 6-seed was just as improbable. The Wildcats had to knock out No. 3 West Branch and No. 2 Howland to get to the Bulldogs in the final.
"We knew we weren't the favorite coming in because Poland had a lot of young talent. We just accepted it and played hard," Struthers senior forward Ryan Leonard said. "We wanted to prove everyone wrong."
Lakeview (20-6) and Struthers split the regular-season series, with the Bulldogs beating the Wildcats 71-54 in the first meeting before Struthers won the rematch, 67-48, in Cortland.
"[Saturday's game] was very similar to the first one. We started out strong and once we start out strong as a team, we play really well," Lakeview senior T.J. Lynch said. "That's what happened today. It just took off and never really slowed down."
Leading 15-10 after the first quarter, Lakeview's shooting was unstoppable. The Bulldogs did not miss a shot in the second quarter until there were 40 seconds left until halftime — and finished 10 of 12. A.J. McClellan and Daniel Evans each hit two 3-pointers and Lakeview led 39-22.
Staring down a 17-point deficit, the Wildcats came out of the break with a 7-0 run. Kevin Traylor hit a layup and 3-pointer on consecutive possessions and Carson Ryan nailed a 3 and Struthers was within nine points of tying the game. The Bulldogs didn't score for nearly four minutes in the third quarter.
"I thought we made a little run to get to nine, but we just ran out of gas there," Struthers coach Jim Franceschelli said. "I'm proud of our guys. We have two seniors and we're young. We play two freshman, four sophomores — we're going to be back and we know that. Being here and doing this is going to make us even hungrier."
Lakeview doesn't have a deep team — the Bulldogs didn't use their bench until the fourth quarter — but the group that's out there does a good job sharing the ball. Getting out that one extra pass out allowed Evans to make three more 3-pointers nearly untouched from the corner.
"We had to figure out what we had to do in that defensive scheme and got our threes up to push it to [a 17-point lead] just like at halftime, then we rolled all the way," McClellan said.
All of Lakeview's points went to the starting five. Evans made five 3-pointers in an 18-point performance and Lynch put up 17 points. McClellan had 15 points and Jeff Remmick and Drew Munno round out the scoring with 12 and 10 points respectively.
Leonard and Traylor each scored 16 points for the Wildcats (15-11). Ryan, the team's leading scorer, was limited to seven points as foul trouble in the first half hampered him.
More like this from vindy.com