Ohio auditor cites five local boards for public-records violations
Ohio Sunshine Laws download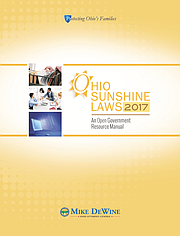 Document
An open government resource manual for Ohio
YOUNGSTOWN
Auditor of State Dave Yost issued 321 citations to 267 public entities in 2017 for violating public-records requirements, he announced in a report today.
Six citations were issued to public entities in Trumbull County; none was issued to local governments or school boards in Mahoning County.
The auditor reported that of the 4,803 financial audits completed in 2017, 5.5 percent resulted in citations for noncompliance with public- records requirements, which represents a 22 percent decrease in citations compared to those issued in 2016.
The city of Girard received a citation related to public-records training. The state requires that elected officials or a designee who does not work in the official's office attend a three-hour public-records training session for each term in office, and retain documentation of attending.
The auditor's report notes Girard has numerous elected positions, including mayor, auditor, treasurer, law director and council members.
"Elected officials of the city or their designee did not attend the required public- records training," the report states.
Mayor James Melfi said he was not aware of the training requirement, but that even if he had been aware, he would not have attended.
Melfi said he has not observed or participated in any open-records or open-meeting violations during his tenure.
"As far as missing training, I didn't even know about it. So that's fine," he said. "Maybe they should use that training for those who may be breaking the law.
"Maybe we don't need the training. Maybe I have other important things to do, like public services," Melfi said.
City Council President Reynold Paolone, in his 13th term, also said he was unaware of the requirement.
"Today is the first day I've heard anything about it in 25 years of public service," he said, adding he does not believe city officials received any information from the state about the requirement. "We did not ignore them. We would have definitely done it, had we known about it. They can't cite us for something we don't know about."
Lordstown Local School District also received a citation.
"We noted the district did not retain three out of 53 direct-deposit authorization forms or voided checks in the personnel files. In addition, two out of the 53 employees' direct-deposit authorization forms on file did not agree to the payroll register that was submitted to the bank," the report states.
"Basically, there was a mishap with a couple of employees," district Treasurer Mark Ferrara said. "We went to direct deposit. ... I know in one of those cases, the lady has been here over 20 years, and apparently her direct-deposit form she filled out must have gotten misplaced."
Ferrara said the district was notified that, for a few employees, their original direct-deposit forms weren't found, but authorizations were on file.
Brookfield Local School District was cited for "not consistently following" its records-retention policy. Mesopotamia Township received two citations for not having a records-retention policy. Southington Township was cited for not having a written public-records policy, according to the auditor's report.
To be compliant, public entities must follow the public-records training requirement; adopt a public-records policy; include the policy in an employee handbook if a handbook exists; create a poster describing the office's policy; and the employee who "has custody of the records of the office" must acknowledge receipt of the records policy in writing.
The public office cannot limit the number of records it makes available to a single person; limit the number of public records it will make available during a fixed period of time; or establish a fixed period of time before it will respond to a public-records request, unless that period is less than eight hours.
The public-records violations were discovered while the state auditor's office conducted financial audits of public entities.
The majority of citations "stemmed from officials neglecting to attend state-required public-records training, entities lacking public-records policies or failure to make the policy readily available to employees and the general public," according to the auditor's office.
"Message to public officials: These are not your records. These are public records, and it is the law," Yost said in a statement. "You need to do whatever it takes to remind yourself to comply. And there's training available to help you."
The state auditor follows up on noncompliance issues during subsequent audits.
The announcement from Yost's office comes at the start of Sunshine Week, a nationwide initiative to raise awareness about the importance of open government and accessible public records.
More like this from vindy.com