Mackenzie Sambroak is Vindicator Regional 85th Spelling Bee winner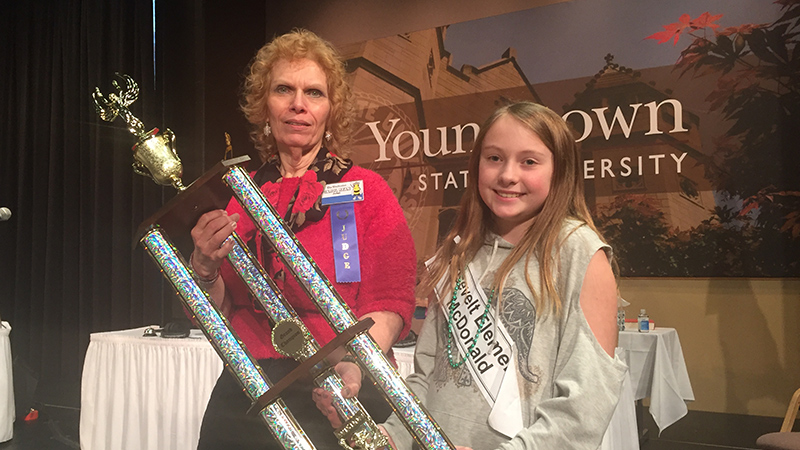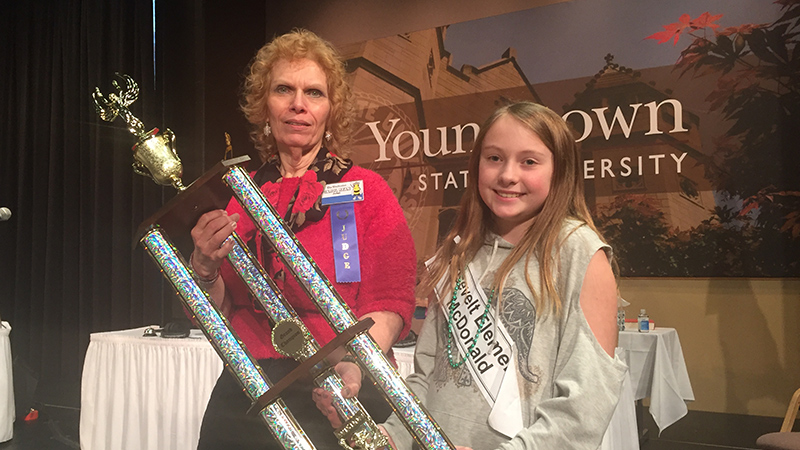 ---
YOUNGSTOWN — By AMANDA TONOLI
atonoli@vindy.com
YOUNGSTOWN
Mackenzie Sambroak, Roosevelt Elementary fifth-grader, found her strength — or her tour de force — by correctly spelling 'tour de force' and becoming The Vindicator's 85th Regional Spelling Bee champion.
"I really didn't expect to win," she said Saturday at Youngstown State University. "This is the biggest trophy I've ever gotten."
Mackenzie's language arts teacher Elaine Rupe was ecstatic to celebrate with her student.
"[Mackenzie]'s an amazing student," Rupe said. "She's brilliant and an avid reader and I am just so proud of her."
Mackenzie was joined in the winners' circle by second-place winner Nina Dill, Montessori School of the Mahoning Valley eighth-grader; and third place winner Dominic Nohra, W.S. Guy Middle School sixth-grader.
The Vindicator Regional Spelling Bee has been a community tradition since 1934.
Joe Nohra, Liberty schools superintendent and Dominic's father, said it's exciting to see what such a talented group of students was able to accomplish.
"Hats off to all of those kids," he said. "This is just a celebration of literacy and academic achievement for the area."
Steve Sambroak, Mackenzie's father, echoed Nohra's sentiment.
"I'm just extremely proud of [Mackenzie] and of all of the other tough competitors," he said.
Forty-six spellers from Mahoning County and parts of Trumbull County qualified for Saturday's bee, which includes participants from public, charter, private and home schools.
Two of the entrants were absent and didn't participate.
Thirty students remained after the first round.
Words missed included "generalissimo," "brigands," "crampon," and "sophomore."
The second round eliminated 11 spellers, leaving 19 to continue competing.
Rounds three and four both took down three students each with words such as "mizzle" and "cauliflower."
The fifth round eliminated five spellers with "uncooperative," "sustenance," "lading," "mouthiness" and "trespasser."
Rounds six and seven lost spellers on "resurrect" and "ontological."
From there the rounds went quickly, placing Dominic in third place by his misspelling of prevaricate.
Nina and Mackenzie dueled a few rounds by spelling a few words incorrectly, finally ending with Nina's misspelling of the word "incorrigible" and Mackenzie's correct spelling of "oracy" and then the champion word, "tour de force" meaning a feat of strength, skill or artistic merit, according to the spelling guide.
As the winner, Mackenzie moves on to the 91st Scripps National Spelling Bee in Washington, D.C. later this spring.
The trip, including hotel and travel accommodations, tours, meals and incidental expenses for Mackenzie and an adult escort are paid by The Vindicator.
Besides the trophy, Mackenzie received a gift card from the Rotary Club of Youngstown; a gift card from the Downtown Kiwanis Club; a one-year subscription to Britannica Online Premium, courtesy of Scripps; the Samuel Louis Sugarman Award; Webster's Third New International Dictionary; and flowers from Burkland Flowers of Youngstown.
Runner-up status earned Nina a Merriam-Webster's Collegiate Dictionary; a T-shirt and school champion certificate from The Vindicator; a second-place trophy; and a gift card from the Downtown Kiwanis.
Dominic's third-place prizes include a trophy, dictionary, T-shirt and certificate.
Bee judges were the Rev. Lewis Macklin of Holy Trinity Missionary Baptist Church; Mary Kay Earnhart, a retired teacher; and Carol Ryan, office manager at St. Christine Parish.
More like this from vindy.com