Wayward pass dooms Western Reserve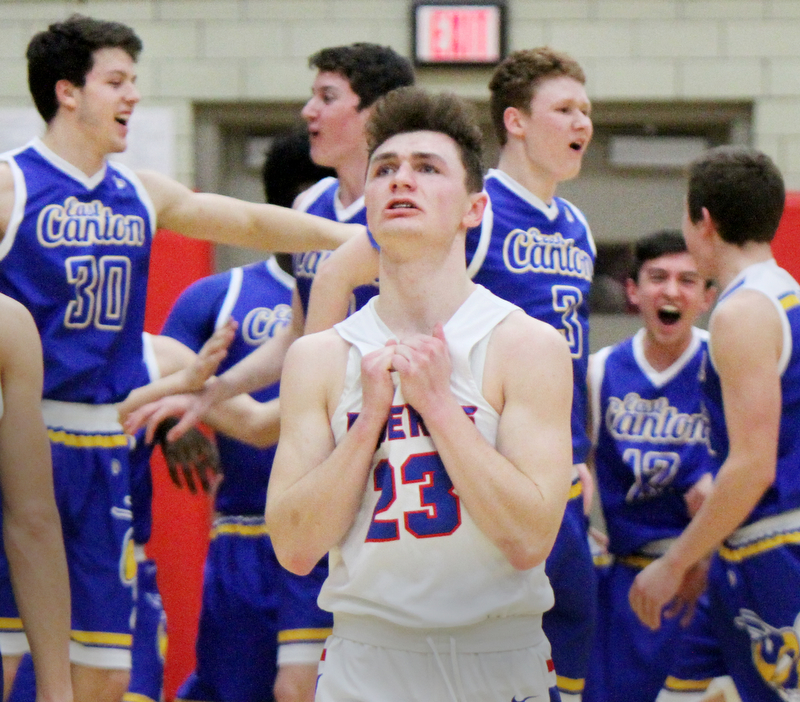 ---
Wayward pass dooms Western Reserve
By Dan Hiner
struthers
A fan of Western Reserve's boys basketball team threw a plastic bottle at the East Canton bench during fourth quarter of the Blue Devils' 53-48 loss on Friday in the Division IV district final.
It was odd foreshadowing of Western Reserve's next possession.
With the Blue Devils down 51-48 and 9.2 seconds left, Western Reserve's Ryan Demsky passed the ball to Kade Hilles for a game-tying three. But the ball flew behind Hilles into the Western Reserve bench.
The fan didn't get the bottle back and the Blue Devils didn't get another possession.
The Blue Devils (18-7) attempted to tie the game at 47 with layup with three minutes left in the fourth, but East Canton's Anthony Baad blocked the shot.
The Western Reserve coaching staff argued the call should have been goaltending. From their perspective, they thought the ball hit the backboard before it was blocked.
East Canton (19-7) went on a 19-2 run, which spanned the first and second quarters, and the Hornets led 28-21 at halftime.
"We've experienced that this year a lot," Western Reserve head coach Patsy Daltorio said.
"Four of our loses have been by a combined 10 points. The other two coming from McDonald, who we were able to avenge the other night. We talked about (it) at the beginning of the game, a game of runs. Juices flying high, somebody's gonna be hot and we were ... coming out the gate knocking down shots from everywhere from Demsky and [Cole} DeZee.
"And then they went on a run. A couple turnovers by us, some ill-advised passes, and they're right back in to take the lead at halftime."
A layup by Jack Cappabianca gave Western Reserve gave the Blue Devils a 37-36 lead with 25.4 seconds left in the third — Western Reserve's first lead since the five minute mark of the second quarter.
It was a back-and-forth game in the fourth quarter.
The final eight minutes featured six lead changes and two ties.
DeZee led the Blue Devils with 15 points, all on 3-pointers. Demsky finished with 14 points and six rebounds while Hilles had 11 points, five rebounds, three blocks and a steal.
Cappabianca was held to six points and six rebounds due to foul trouble.
Baad scored nine points and grabbed nine rebounds for the Hornets. Mitch Mitchell scored a team-high 14 points and Damian Clark finished with 10.
"You find out a little bit about yourself when adversity strikes, and we found out a lot about our team tonight — the way we fought, stayed with it and turned it into a dog fight the rest of the game," Daltorio said. "A couple calls here and there, couple shots here and there, ya know, coin flip.
"But the kids fought their tails off. Not the way we wanted it to end, but you couldn't be prouder of their effort."
More like this from vindy.com