Family is grateful for officers' lifesaving efforts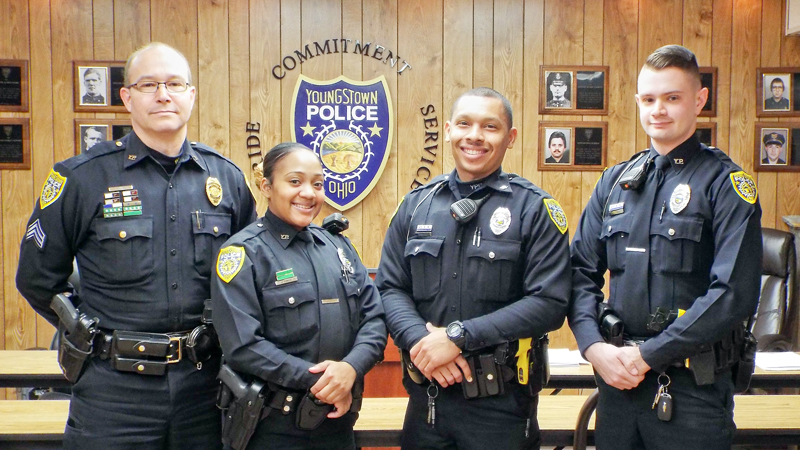 ---
By JOE GORMAN
jgorman@vindy.com
YOUNGSTOWN
Police officers are empowered to do a lot of things. In the case of one West Side family, they were able to provide time so they could say goodbye to their husband and father.
For that, said Barbara Frenzel, she will always be grateful for the actions of the three officers and their supervisor who rendered medical aid Feb. 25 to her husband, Werner, who was having a heart attack.
Officers John O'Neill Jr. Michael Saverko and Jeshaila Dunkle along with their supervisor, Detective Sgt. George Anderson, are credited with keeping Werner Frenzel alive until paramedics could arrive at their Highlawn Avenue home.
Werner Frenzel died March 2 at 79. But family members said last week they could not thank the officers enough because their actions allowed family members from out of town to come home and spend time with Werner before he died.
"What they did gave me the chance to hold my dad's hand one last time," said Kim Frenzel, who came from her home in Florida to be with her father.
The three patrol officers were nominated by Anderson to receive the department's Lifesaving Award.
The officers were initially called to the home for a report of a dead person and Saverko, O'Neill and Anderson were the first three to arrive, getting there before an ambulance.
When they got there they could see Barbara Frenzel and she let them into the house. Her husband had no pulse so right away the officers began rendering first aid, doing chest compressions and CPR.
Saverko put Werner Frenzel on the floor and began the compressions. When he got tired, O'Neill jumped in. Dunkle, who arrived a minute or two after the other officers, also helped out with compressions.
"We all just coordinated," O'Neill said. "When one person got tired, another person would jump in."
"I'm thinking this is real life because we are literally trying to save this man on the floor," Dunkle said.
Anderson said officers have gotten more adept at giving first aid in the last year because of the increase in opioid overdose calls in the city. Often in the city there have been so many at the same time that police sometimes arrive before an ambulance and they have to give attention to a person. Anderson estimated the officers were working on Werner Frenzel for at least five minutes before an ambulance arrived. He said there was never a thought about stopping.
"We know if you can keep compressions going, he has a pretty good chance of surviving," Anderson said.
Paramedics managed to get a pulse on Werner Frenzel just before the officers arrived.
"It was a literal sigh of relief," Saverko said.
Dunkle, along with officer Jennifer Hudson, saved another person's life this month after answering a call on McGuffey Road and finding a woman there having a heart attack. The two gave her first aid and saved her as well.
Barbara Frenzel said her husband was a native of Germany and came to the United States at the age of 14. He served more than eight years in the Navy, some of his service during the Vietnam War, as an electronics technician.
"He was a very patriotic person," she said of her husband. "He loved this country."
She said she was very grateful for how the officers tended to her husband, noting how they were taking turns doing chest compressions. She said because of their actions, his family was able to say goodbye to him in person.
"Everybody got to see him," Barbara Frenzel said.
More like this from vindy.com