STEM students' rover paddles through NASA competition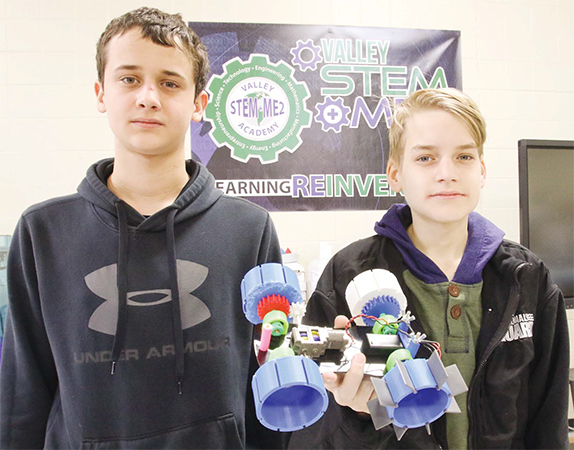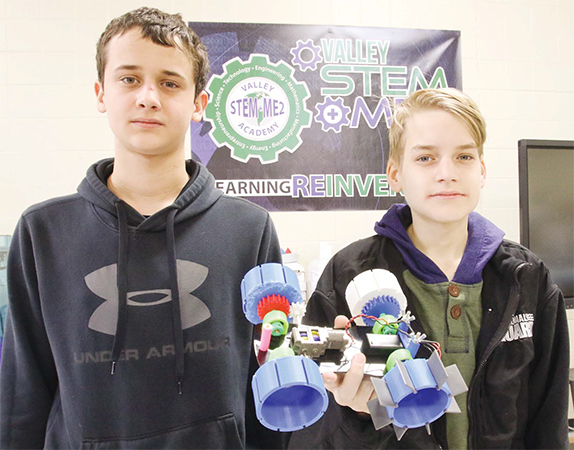 ---
MCCTC academy advances one team in Rover Project
By Billy Ludt
CANFIELD
Some students believe that the solution to navigating the surface of Mars is found floating here on Earth.
The NASA Mars Rover Project gave 10 school districts the chance to design models that could contribute to a rover being sent into space in 2020. Of the 20 teams in the Valley STEM Academy at the Mahoning County Career & Technical Center, one advanced.
"I'm so proud of them," said STEM coordinator Rachel Young. "I just showed them the stuff, and I pulled them back into the lab and they worked independently." Freshmen Kegan Wormley and Justin Culp were the sole team from the STEM Academy to advance in the Rover Project.
Participating schools were tasked with developing wheels better-suited for the red planet's surface.
Each group received rover model kits in November, and were required to design and make 3-D printed wheels. They sent their models through rounds of tests on simulated terrains, and returned to the drawing board to try again.
The wheels on Culp and Wormley's rover submission specifically look a lot like the paddles on a steam-powered riverboat. The rotating paddles were built to push boats through the current, but freshmen Wormley and Culp thought of another use.
"Our thinking for it was, it would be able to dig into the sand and climb over objects," Wormley said.
They printed wheels with space for oars to recreate the riverboat paddles. The design helped them make it to the next round of the project.
NASA design engineer Steve Bauman told students during a question-and-answer session in November that the space program lacked anybody with experience engineering tires. This has resulted in rovers with faulty wheels roaming a planet 34 million miles from Earth.
Wormley said he's excited for the next step of the project.
"Same," Culp added. "I get out of school to tour NASA for a day."
The two will go to NASA Glenn Research Center in Cleveland to show their findings and meet with space program employees.
More like this from vindy.com