Traylor carries Struthers into district final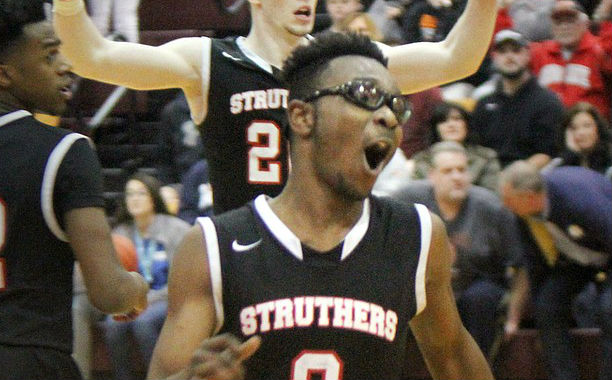 ---
Howland vs. Struthers Basketball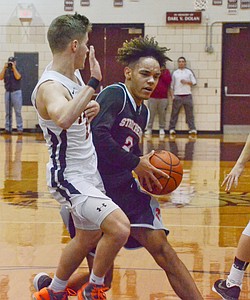 Gallery
The boys basketball teams from Howland and Struthers faced off at Boardman High School on Thursday March 8, 2018. Photos are by William D. Lewis and Scott R. Williams.
BOARDMAN — When the Struthers boys basketball team won back-to-back district titles in 2011 and 2012, the ball boy back then cultivating his love for the game was none other than current starting forward Carson Ryan.
The Wildcats are back after another upset in the Boardman district.
Struthers ended a six-year district final drought with a 49-48 upset of second-seeded Howland on Thursday night at Boardman High School. The Wildcats will meet fourth-seeded Lakeview at 4 p.m. Saturday with a regional berth at stake.
Four of the tournament's top five seeds — including top-seeded Poland — have already been dispatched.
Kevin Traylor scored a game-high 19 points, including Struthers' final 11, to lead Wildcats to their sixth consecutive victory.
Ryan and freshman Trey Metzka each added eight points for Struthers (15-10).
"We were eliminated early the last couple of seasons so it is definitely going to be a lot of fun to play for a district championship," Traylor said. "At the beginning of the year we struggled, but everyone seemed to come together at the midpoint of the season. We jelled. We have a nice chemistry right now and everyone knows their role."
Nathan Barrett scored five of his team-high 15 points in the opening period to stake Howland (18-6) to an early 11-9 advantage, but a bucket by Traylor and a triple by Ryan with one second remaining gave Struthers a 14-11 lead heading to the second period.
"It's been a long time coming, but a great experience to get to this point," Ryan said. "My brother, Jordan, played on those district championship teams and along with my sister, Ashleigh, inspired me to want to play the game. Both played for district championships and just watching them play had a huge influence on me."
Two free throws by Connor Tamarkin and a bucket by Frank Rappach keyed a 5-0 run by the Tigers for a 15-14 lead, but a bucket and triple by Metzka helped Struthers on a 7-0 run for a 21-17 margin.
After Frankie Manios was fouled and hit two of his three free throws for a tie at 21, Traylor's bucket with a little over a minute remaining held up and the Wildcats went to the locker room with a 23-21 advantage.
Metzka relishes the job he does for head coach Jim Franceschelli.
"My role is to come in and make shots, guard my opponent and just make good, sound decisions," Metzka said. "We did this for the seniors tonight."
Back-to-back triples by Rappach keyed an 8-2 Tigers run to start the second half as they opened their largest lead of the game, 29-25, at the 6:05 mark.
Triples from Weisman and Tamarkin helped Howland outscore Struthers, 14-10 in the period as they took a 35-33 lead after three quarters.
"It only ends well for one team in every division," Tigers head coach Dan Bubon said. "We lost by a point, didn't shoot well and came up short. We outrebounded opponents this year sometimes by 20 or 30 rebounds, but didn't do a great job on the glass tonight. We didn't dominate.
"We also had some good looks and a shot at the end. The teams in this district were evenly matched."
Mertzka's second triple of the game and buckets by both Ryan Leonard and Traylor to start the final frame gave Struthers its largest lead of the game, 40-35.
Tamarkin, who scored nine of his 14 points in the final period, converted two foul shots to give Howland its last lead, 43-40 at the 2:03 mark.
Enter Traylor who keyed a game-ending 9-4 run as the Wildcats put an end to the Tigers' six-game winning streak.
"Our game plan was to be patient and play our game, not theirs," Franceschelli said. "They are a very physical team and I felt like we matched that, especially in the first half. That 8-0 run in the third quarter was critical because it took us from four points down to four points up.
"We're playing our best basketball at the right time and Kevin's last 10 games or so are as good as it gets."
The Wildcats and Bulldogs met twice during the regular season. Lakeview won 71-54 at Struthers in January. The Wildcats returned the favor 67-48 in February.
More like this from vindy.com