Lakeview outlasts Poland in dogfight
Poland's bid for tying 3-pointer off mark
By Dan Hiner
boardman
Down three and five seconds left on the clock, Poland's Braeden O'Shaughnessy dribbled the ball up the court and eventually pulled up for a 3-pointer. But the ball faded slightly to the right and bounced off the rim.
The Lakeview boys basketball team held on to win a district semifinal 56-53 on Wednesday night at Boardman High School.
Poland vs Lakeview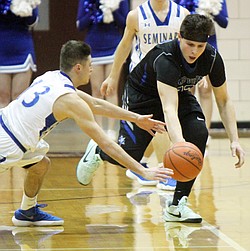 Gallery
Fans applauded, some went on the court and other waited outside the locker room as Lakeview advanced to a district final for the first time this century.
"My whole life, my career, we've been a one-and-done team or we really weren't that good," Lakeview's TJ Lynch said. "This year and as we progressed through the season, we've gotten better and better — better playing with each other, better chemistry. Poland's a great team. Going out and play with them every night. It's just a great feeling getting to a district championship."
From Lakeview head coach Ryan Fitch's perspective, O'Shaughnessy was about to hit the game-tying shot.
"From the bench it was directly on line," Fitch said. I thought 'Oh boy, that's gonna go in and we're gonna go to overtime.' Our guys were severely fatigued. I'm just glad it came up short."
Poland nearly won the game with 6.7 seconds left on the clock.
Lakeview had the ball and threw it down the court because no one got open, hoping to burn some time on the clock. But the ball went out of bounds and Poland took over.
Poland tried to get the ball to O'Shaughnessy out of a timeout but Lakeview prevented the pass. Instead, Billy Orr caught the ball underneath the Lakeview basket. He attempted a contested layup that never hit the rim.
"I drew up a play for them that I felt strong about, but bottom line, it's their season and I told them, 'We can do what I showed you here' or we can do a play we call Butler," Poland head coach Ken Grisdale said. "They said they wanted to do Butler and I agreed.
"My playing days are over. They wanted that play. They went with it. Lakeview did a really nice job of doubling Braeden, and we did get a look on the backside. Unfortunately it didn't go in."
Lynch helped clinch the win for Lakview. He went 4 for 6 from the free-throw line in the final 57 seconds.
"We've been in a lot of tough games this past year with Poland," Lynch said. "Every time we play them it's neck and neck. I just took one possession at a time and basically go one at a time, focus on what I'm trying to do."
Lynch finished with 19 points and A.J. McClellan scored 16.
O'Shaughnessy scored a game-high 39 points and had six rebounds for Poland. He was the only Poland player to score more than six points.
Teammate Dan Kramer was held to six points and four rebounds.
Poland beat Lakeview twice this season. In both matchups, Poland's high-tempo offense wore down Lakeview's players by the fourth quarter.
That didn't happen in the third meeting between the two teams. Lakeview limited its turnovers and slowed the pace early.
"[Poland] got some fast-break points in the first half. They score in transition really well," Fitch said. "Their defense is swarming at times. They create a lot of turnovers and scores in transition. We talked about it at halftime, limit their transition points and take our chances playing half-court defense. That tempo of playing the half-court game really favored us.
"If that game gets to the 70s, I'm afraid Poland comes out on top. We wanted to keep it right were it was. In the low 50s."
Fitch told his players that making the district tournament is a great accomplishment. If they were able to make the district final, they were "playing with house money."
"Our guys are really loose as it is and I don't think we'll be tense at all," Fitch said. "I'm excited for Saturday."
Lakeview will meet the winner of tonight's district semifinal between Howland and Struthers.
More like this from vindy.com