Judas Priest is packing firepower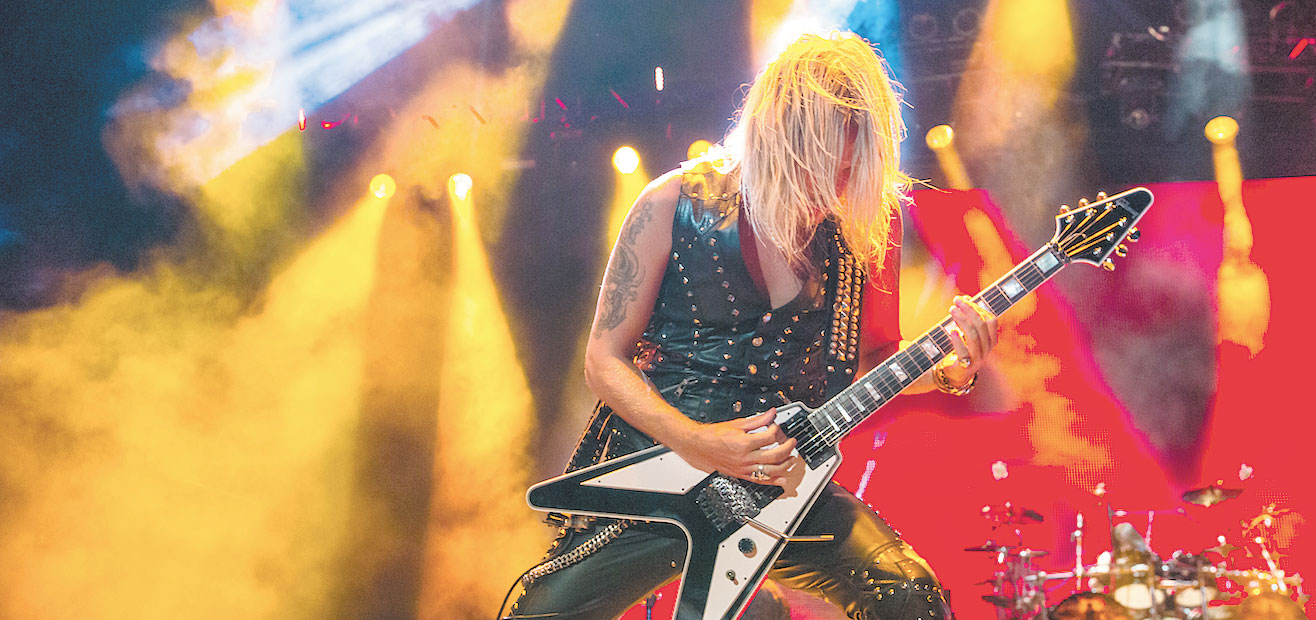 ---
By GUY D'ASTOLFO
YOUNGSTOWN
Reloaded and raring to go, Judas Priest will release a new album Friday and follow it with a world tour that will hit Youngstown on its second stop.
"Firepower" is the title of the heavy metal band's new release, its 19th studio album in a career that is pushing half a century. As the name suggests, the album is aggressive and full of the fury that most bands couldn't maintain for anywhere near as long.
The Rob Halford-fronted act has weathered its share of storms, most recently the loss of Glenn Tipton from the tour. The band's founding guitarist is sitting out the upcoming run due to his struggle with Parkinson's disease.
Standing in for Tipton will be Andy Sneap, who co-produced the new album. He is a metal guitarist in his own band and a long-time friend of Judas Priest who certainly knows the material.
Sneap also produced the previous Priest release, 2014's "Redeemer of Souls." That album had a dark and ominous vibe, in contrast to the triumphant roar of "Firepower."
Richie Faulkner, who has been a guitarist with Priest for most of the past decade, talked about the new album and the iconic band in a phone interview.
He agreed that "Firepower" recaptures the band's conquering spirit. "'Raging' is a good word for it," said Faulkner. "It is intense and ferocious, and people hear the classics in it, the old stuff. It's very forward and has a bit of a rising up attitude, a definite positive message, facing up to challenges and overcoming them."
Adding Sneap as a substitute to the live lineup was as seamless as could be expected, he said.
"[Sneap] is part of the family already," said Faulkner. "He had been working with the band for a year or so and was privy to Glenn's situation, and he's a great guitarist, and he loves the band. Glenn suggested Andy, but he doesn't want to be seen as the new guitarist. He is flying the flag for Glenn."
The harder guitar parts are no longer within reach for Tipton, but the guitarist might just pop up here and there on the upcoming tour for a song or two. An unannounced appearance by Tipton during the encore would raise the roof, admitted Faulkner.
In recording "Firepower," Priest brought back producer Tommy Allom, who handled the band's early classics, including "British Steel" and "Screaming for Vengeance." Blending his sensibilities with Sneap's modern metal style gives the new album the best of both worlds.
The recording process was also a return to form, with the band playing together in the same room instead of recording tracks separately and then mixing them.
"How it differed from 'Redeemer' really brought it home for me," said Faulkner. "We were capturing the energy of playing live, that lightning."
Faulkner is ready to bring that lightning on the road for the 59-city tour of North America and Europe.
"It's incredibly important to play live," he said. "We are a live-type of band, and I am incredibly stoked to go on tour. It's exciting on so many levels. Getting together with fans, flying the Judas Priest flag, traveling to other countries. Our fans mean the world to us."
Those fans at Covelli Centre and elsewhere can expect to hear the full range of the band's deep catalog, including the title cut and "Lightning Strike" from the new album. But the band will adjust its set list after it gets a feel for the audiences.
"You never know what is going to happen those first two shows of a tour," said Faulkner. "There are little hiccups. We always try to give them something new, but also connect with people. There will be some deep cuts and also the classics such as 'Another Thing Coming' and 'Breaking the Law'. The new record is being so well-received but you've got to be careful about how many new songs to put in. We could add more as we go along."
While Judas Priest long ago earned its reputation as heavy metal's torchbearers, the time for cementing its legacy for all time seems to be right now.
There is no better way of doing that than being inducted into the Rock & Roll Hall of Fame. Judas Priest was among the nominees for the 2018 class, but did not make the final list of inductees.
Faulkner implied that fans' voices should speak the loudest, and not just to Rock Hall voters.
"Metal was in its infancy when Black Sabbath and Judas Priest came along," he said. "We are forebears of that movement. In 2019, it will be 50 years for us. Our heritage goes way back and it's the fans that put the band where it is today.
"People connect with music in different ways, and with hard rock, [the fans] are in it for life," he continued. "[A band] can have a diverse palette, like Pink Floyd, but the fans stay with it."
The fact that Priest's 2014 release debuted at No. 6 on the Billboard chart – the band's first bow in the top 10 – bears out the devotion of its fans over the decades, as well as the act's ability to draw new ones.
Still, Faulkner would like to see Judas Priest take its place in the hallowed halls of the glass pyramid in Cleveland – even if just for the sake of its fans.
"I don't speak for the rest of the band," he said. "This is my own opinion. But [induction into the Rock Hall] means a lot for some fans. Metal has always been the underdog. For a band like Priest to be nominated is great for metal and its fans, and it's great to see those fans being appreciated. On the other hand, I think after 50 years of creating new music and touring the world, with our fan base, that's more of an accolade than any award. Our fans are passionate.
"We could get in next year," Faulkner continued, noting that Black Sabbath and Metallica are the only two metal bands that have been inducted into the Rock Hall so far. "If Priest is not inducted, what is the credibility of it," he rhetorically asked.
When told that the Rock Hall is only an hour or so from Youngstown, Faulkner jokingly hatched a quick plan.
"Maybe I'll go up there and try to make some friends," he said with a laugh.
More like this from vindy.com