Cellphone technology takes center stage at Burke trial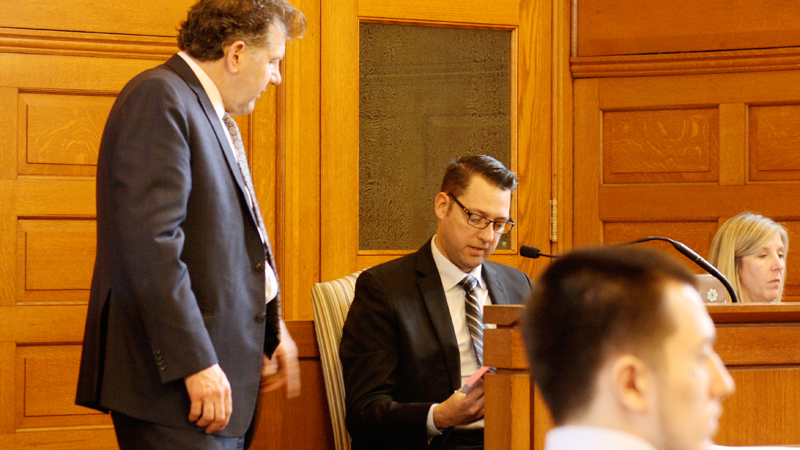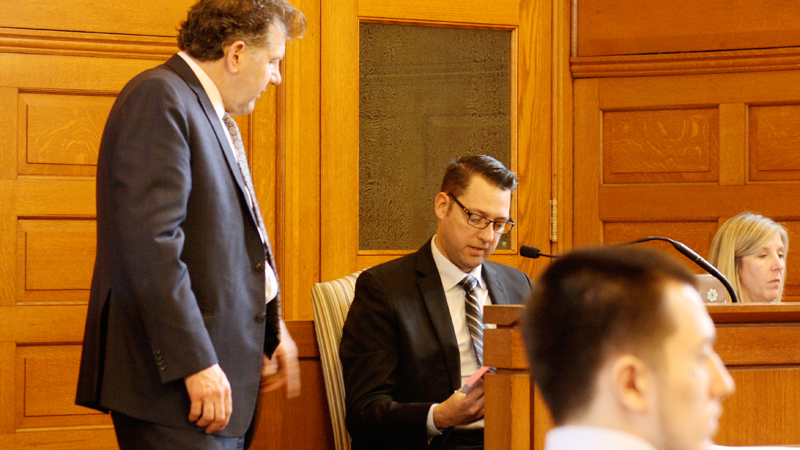 ---
By ED RUNYAN
runyan@vindy.com
WARREN
A criminal analyst with the Ohio Bureau of Criminal Investigation showed jurors "maps" Wednesday – showing the movements of Austin Burke's cellphone June 12, the day Burke is accused of killing Brandon Sample in a rural area of Bristol Township.
The testimony of Bill Moskal of the bureau and the 15 images he created for Burke's trial were projected onto a screen in the courtroom of Judge Andrew Logan of Trumbull County Common Pleas Court.
The images mapped the locations of Burke's phone. Some of the images showed miles-wide circles showing the cellphone tower that picked up Burke's phone at various times.
The center of the circle indicated the cellphone tower, and the areas around the tower were probable areas where the phone was located.
One map had the phone being in the Niles area at 2:08 a.m. Another showed the phone being north of Niles at 3:43 a.m. There's about a 90-minute gap in images with the next one being 5:14 a.m. northwest of Cortland, then 5:33 a.m. southwest of Cortland and one in the central part of Howland Township at 5:44 a.m.
Under questioning, Moskal agreed that the images suggested Sample was traveling south at the time.
The images show the phone being back in Niles at 9:37 a.m. and at 10:57 a.m.
Under cross-examination by one of Burke's attorneys, Moskal agreed that none of the images show Burke's phone in the area of Hatchet Man Road on June 12.
Under direct examination by Chris Becker, assistant county prosecutor, Moskal explained that cellphone companies "ping" ordinary cellphones at various times on a "random basis," which could explain why there were no locations recorded for those 90 minutes.
Prosecutors are hoping to use the data, which Moskal received from Burke's cellphone carrier through a court order, to corroborate testimony.
Burke, 19, of Bristolville, is accused of killing Sample, 22, of Warren.
Prosecutors presented testimony Tuesday from five teens who said they saw and spoke with Burke at various times June 12 at a house on Mason Street in Niles, the home of one of Burke's friends.
Some said Burke told them the morning of June 20 that he had killed Sample on Hatchet Man Road in the Grand River wildlife preserve in Bristol Township.
Two young men testified they were afraid to tell police at first what Burke had told them. One female at the Mason Street home said Burke arrived at the front door of the Mason Street home about 3 a.m. June 12. She said Sample was in a white car in the driveway and Burke told her he was going to rob someone for heroin.
A friend of Sample's testified that Sample told him he was going to meet up with Burke early June 12.
The trial resumes this morning.
Sample's father, Kenneth Sample, testified that he texted his son at 4:40 a.m. June 12 when Kenneth woke up to go to work, and Brandon replied, "I'm on my way home, Bro." Kenneth Sample believed the text had come from his son because of the manner of the text.
Kenneth Sample said he tried calling Brandon after that, but the calls went to voicemail.
At 5:30 p.m., Brandon did not show up for church as planned, and he did not show up for work that evening. The family contacted Warren police.
More like this from vindy.com