Brothers resigns from ADC post
Brothers' resignation letter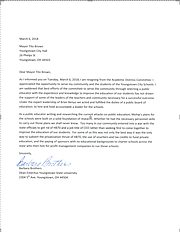 Document
Barbara Brothers' resignation letter
By AMANDA TONOLI
atonoli@vindy.com
YOUNGSTOWN
The mayoral selection to Youngstown City Schools Academic Distress Commission has joined two others in their resignations from the commission.
Barbara Brothers resigned Wednesday after former ADC chairman Brian Benyo and vice chairwoman Jennifer Roller, who resigned Friday.
The ADC has now lost more than half of its members.
Brothers was selected by then-Mayor John A. McNally for the commission in November 2015.
Mayor Jamael Tito Brown said he wants to first sit down with Paolo DeMaria, state superintendent, to discuss the future of the commission before deciding who would replace Brothers as his appointee.
"I want someone who has a great understanding of the Youngstown City School District" to succeed Brothers, Brown said. "But she's just resigned, so it's too early to talk of an appointment."
When asked if Brown, a former Youngstown school board member, would name himself to the commission, he said: "I can't say I've thought of appointing myself."
Brothers said in her resignation letter she is "saddened that the best efforts of the committee to serve the community through selecting a public educator ... has not drawn the support of some of the leaders of the teachers and community necessary for a successful outcome."
House Bill 70, commonly referred to as the Youngstown Plan, which was signed into law by Gov. John Kasich in July 2015, enabled the state-appointed academic distress commission to hire a CEO to lead the district.
The bill gives CEO Krish Mohip complete operational, managerial and instructional control.
"Under the expert leadership of Brian Benyo, we acted and fulfilled the duties of a public board of education: to hire and hold accountable a leader for the schools," the letter states.
"Mohip's plans for the schools were built on a solid foundation of research. Whether he had the necessary personnel skills to carry out those plans, we shall never know."
DeMaria has assigned state deputy Superintendent John Richard, who was once a commission member, the responsibility of supporting the work of the ADC until a new chairman is designated.
Mohip also may leave Youngstown. He is a finalist for a superintendent position in Boulder Valley School District in Colorado.
The two remaining ADC members are Nick Santucci and Vincent Shivers.
Santucci, Youngstown/Warren Regional Chamber education and workforce development director, said he is grateful for Brothers' contribution to the district.
"I remain committed to giving the students their best shot at success, and I have no intention of resigning," he said.
"I plan to work with the newly appointed ADC members for the betterment of our students. We will continue to move forward."
More like this from vindy.com