Police and victim's father testify in Austin Burke trial today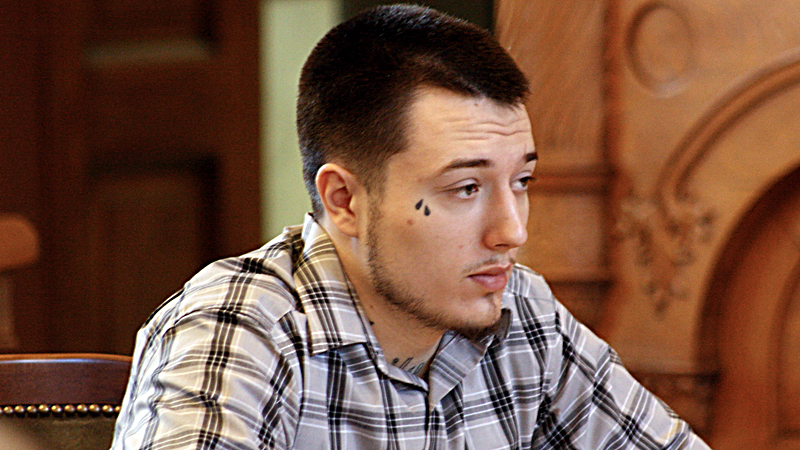 Photo
Austin Burke in Trumbull County Common Pleas Court during his aggravated-murder trial. Police accuse him of killing Brandon Sample, 22, in 2017.
WARREN
The Austin Burke aggravated murder trial continued this morning in Trumbull County Common Pleas Court with testimony from two police officers and Kenneth Sample, father of Brandon Sample, the man Burke is accused of killing last June.
Kenneth Sample said his son worked for the Ohio Department of Youth Services as a correction officer in the Massillon area from September 2016 to February 2017 and was working at a Middlefield factory at the time of his death.
He testified that he texted his son at 4:40 a.m. June 12 when Kenneth woke up to go to work, and Brandon replied, "I'm on my way home, Bro," which Kenneth Sample believed was from his son.
Kenneth said he tried calling Brandon after that, but the calls went to voicemail. He became more concerned throughout the morning. At 5:30 p.m., Brandon did not show up for church as planned, and Brandon did not show up for work at that evening. The family contacted Warren police about that time.
Police believe Brandon was killed early June 12.
Questioning of Detective David Morris of the Cortland Police Department focused on the search of an apartment on West Main Street in Cortland June 20, the day police believe Burke, 19, of Bristolville, committed an armed robbery at the Cortland Pizza Joe's restaurant.
Defense attorneys in opening statements questioned why police failed to find a handgun and ammunition in two vases the day of the robbery and a resident of the apartment found it and alerted police the next day.
Morris also described the remote location in Bristol Township where the body of Brandon Sample, 22, of Warren was found June 15 off the edge of a clearing down a long, dirt road.
Again Morris was questioned by defense attorneys about specific evidence found. Defense attorneys have suggested that they will argue that Sample was not killed by gunfire, as prosecutors believe, and instead died of a drug overdose.
More like this from vindy.com