Math Night gives a look at learning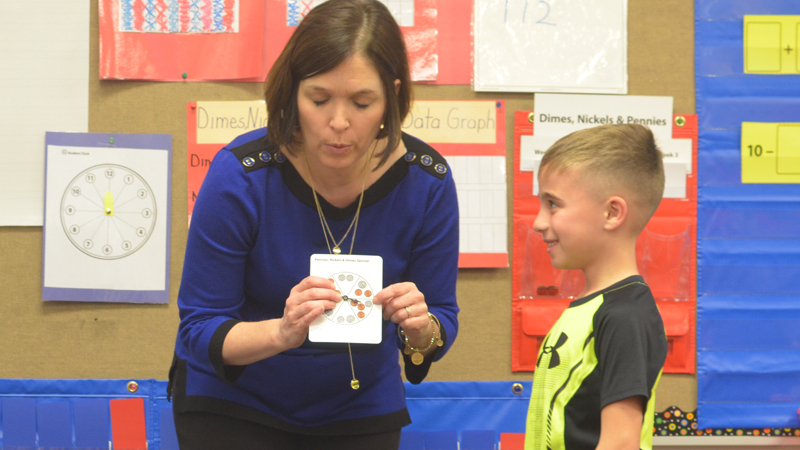 ---
By GRAIG GRAZIOSI
ggraziosi@vindy.com
POLAND
First-graders at Poland Union Elementary and their parents spent an extra two hours at school Tuesday evening eating pizza and completing math problems during the school's Family Math Night.
The event is meant to bring parents into their children's classrooms for a first-hand look at how the teachers at the school lead a lesson and engage with their students.
Throughout the evening, the students and their parents attended short math lessons, during which students could show off the math skills they'd been developing.
In first-grade teacher Tina Bonarigo's classroom, students were given markers and white boards and were challenged to come up with as many equations as possible to reach the number 112. With a little help and encouragement from their parents, the students shared all the various ways they devised to reach their target number.
After the lesson, students moved into the school cafeteria, where they were treated to pizza and a challenge asking them to draw and color a pizza onto a blank delivery box. The challenge led students through a number of tasks that tested their understanding of fractions, using the slices of pizza as a real-world example of splitting a whole into smaller parts.
Josh Aikens was one of the parents of the 56 students who attended the event, and along with his wife, Kim, helped their daughter Kerstin work through the pizza-box challenge.
"In high school for us, numbers were numbers. We weren't really asked to know why; we just were supposed to know the answer and that was that. It's been great seeing the way the kids actually get to learn the concepts now and see how they actually grasp why a math problem works the way it does rather than just responding to it with a memorized answer," Aikens said.
The decorated pizza boxes will be used in actual deliveries by Marco's Pizza on Midlothian Boulevard in Youngstown.
Though Poland schools have had family nights in the past, Tuesday's event was the first time parents were introduced to the school's "Bridges in Mathematics" curriculum.
The curriculum differs from other math programs in that it focuses on introducing hands-on, practical elements into lessons with the intention of helping students learn math at a conceptual level as opposed to relying purely on memorization.
Mike Klacik, the Mahoning County Educational Service Center math instructional supervisor for grades K-5, said the curriculum required adaptation on the part of the teachers, but the goal was worth the work.
"The teachers had to work hard to implement the program, but it's been worth it as it's made lessons much more engaging for students," Klacik said. "The teachers have done a great job."
More like this from vindy.com