---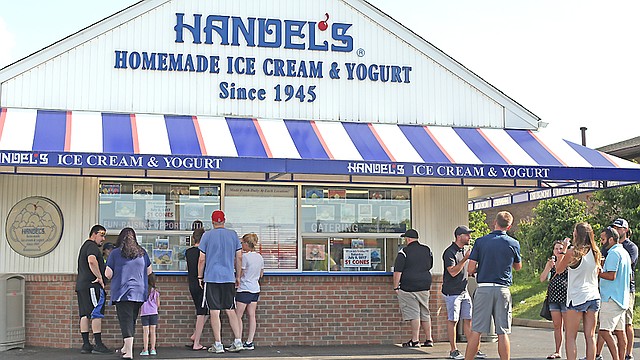 By JUSTIN WIER
jwier@vindy.com
YOUNGSTOWN
Here's the scoop: Handel's Homemade Ice Cream and Yogurt wants a federal court here to prevent a California franchisee from going rogue.
Kenneth Schulenburg, who operates a Handel's franchise in Encinitas, Calif., executed a lease to construct an ice cream parlor that would compete with his Encinitas franchise, according to a complaint filed Monday in U.S. District Court.
The complaint argues that Schulenburg, his business partner Juliana Ortiz and their company Moonlight101 Inc. cannot operate a competing parlor while Schulenburg operates a Handel's franchise without improperly using Handel's trade secrets, which include recipes and techniques.
"Unless immediate action is taken, Handel's more than 70 years of goodwill and valuable trade secrets will be irreparably harmed," the complaint reads.
Lenny Fisher, who owns Handel's, declined to comment on the matter at the advice of his attorneys.
David Levaton, who represents Schulenburg, said he has not had time to review the lawsuit.
Schulenburg, however, filed his own lawsuit against Handel's in January.
That lawsuit accuses Handel's of violating California's franchise investment law and franchise relations act and seeks to end the franchise agreement and collect restitution along with special and punitive damages.
It alleges that Handel's executed a franchise agreement and collected a franchise fee from Schulenburg fewer than the statutorily required 14 days after filing a franchise disclosure document.
Handel's had discussed issues with Ortiz on Jan. 18. Schuleburg's attorneys filed his lawsuit on Jan. 30.
The complaint filed by Handel's documents a rocky road between Handel's and Schulenburg since he purchased the Encinitas franchise in January 2016.
In addition to the plans to open a competing parlor, the complaint accuses Schulenburg of selling unauthorized flavors, concealing revenue and misrepresenting his agreement with Handel's to dissuade prospective franchisees.
The first ripples surfaced in 2017 when Schulenburg entered into unapproved contracts with delivery services and made an unapproved "Bourbon-barrel-aged stout ice cream" in partnership with a local ale house that used the Handel's logo in its advertising, according to the complaint.
The lawsuit claims Schulenburg told other franchisees at a March 7, 2017, meeting in Warren that he will continue to do what he wants because he had the best franchise – it generated $2 million over two years – and that Handel's does not know what it's doing and he could run the business better.
While Schulenburg plans to open an ice cream parlor at 425 Market St. in San Diego, the lawsuit says he refuses to sign a franchise agreement and pay the franchise fee.
The complaint seeks an injunction to prevent the opening of the competing parlor and stop Schulenburg from appropriating trade secrets.
It also seeks to end the franchise agreement between Handel's and Schulenburg and to recover more than $75,000 in compensatory damages along with concealed profits, lost royalties and punitive damages.
Judge Benita Y. Pearson will preside over the case in Youngstown's U.S. District Court.