Foundation provides 'Day of Joy' for Akron Children's patients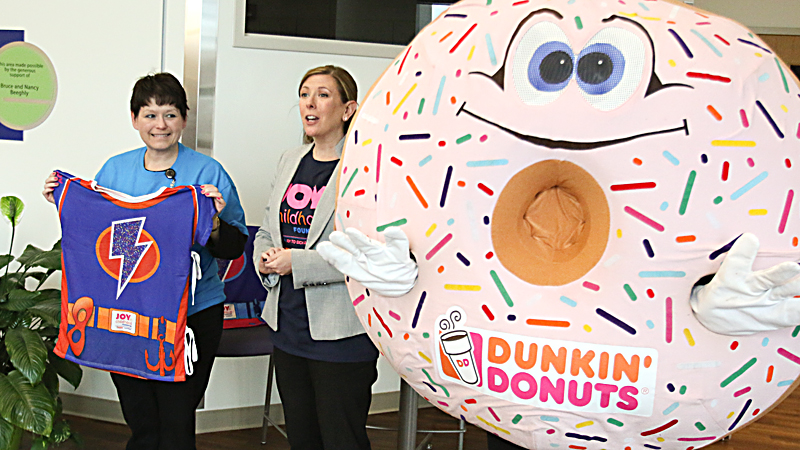 ---
By JORDYN GRZELEWSKI
jgrzelewski@vindy.com
BOARDMAN
Given three frosting options, Yousef Wilson couldn't choose just one.
The 7-year-old opted to cover his doughnut in two types – pink and vanilla.
"I like it," he said happily.
Yousef decorated his own doughnut at Akron Children's Hospital's Beeghly Campus on Market Street, where the Joy in Childhood Foundation sponsored the "Day of Joy" Tuesday. The foundation, which is supported by Dunkin' Donuts and Baskin-Robbins, distributed superhero-themed hospital gowns at children's hospitals across the country, as well as giving visitors the chance to decorate donuts and other joyful activities.
Yousef was there with his father, Dellshone, and twin brother, Nasir.
"It's brilliant," Dellshone said of the Day of Joy. "It gets the community involved. It's fun – and everybody loves donuts."
Thomasina Dennison, Dunkin' Donuts field marketing manager and Midwest co-chairwoman of the Joy in Childhood Foundation, said the foundation's mission is to bring joy to sick and hungry children.
The foundation distributed 180 brightly colored gowns with lightning bolts emblazoned on the front to Akron Children's Tuesday, and a total of 10,000 across the country this year.
"It's a specially-designed patient gown, designed to look like a superhero but with the functionality of a hospital gown so the patients can have the comforts but look of a superhero as they go through health challenges," Dennison said.
JoAnn Stock, Akron Children's Hospital Mahoning Valley senior director of development, said activities such as the Day of Joy are important because they provide some relief for patients, and for their parents.
"We try to make the experience here at the hospital as comfortable as possible for the patients" and their families, Stock said, adding that Dunkin' Donuts has long been a strong supporter of the hospital.
"This allows us to be directly involved with our local communities," Dennison said of Tuesday's events. "There's nothing greater than seeing joy being brought to children."
More like this from vindy.com