Western Reserve stuns McDonald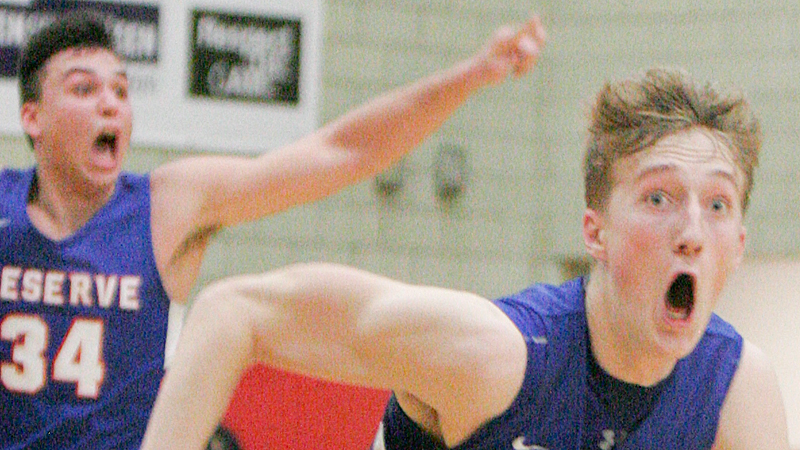 ---
By DAN HINER
dhiner@vindy.com
STRUTHERS
Western Reserve forward Kade Hilles missed a game-winning shot against McDonald during the regular season last year. But Hilles redeemed himself with less than seven seconds left in the Division IV district semifinal game at the Struthers Fieldhouse on Monday night.
Hilles caught a pass from Dom Velasquez and drove through the middle of McDoanld's defense for the game-winning basket in Western Reserve's 54-52 win.
McDonald guard Zach Rasile attempted potential game-winning 3 after crossing the halfcourt line, but the shot fell short and off target.
"Having a wide-open look like that after Dom makes an amazing move, it's something I'll never forget," Hilles said. "My heart started beating so fast my chest started to hurt."
Western Reserve vs McDonald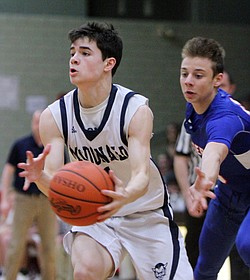 Gallery
Western Reserve vs McDonald
Hilles finished with 10 points, nine rebounds, a steal and a block.
Jack Cappabianca was the leading scorer for Western Reserve. When McDonald went to a full-court press, teammate frequently found Cappabianca down the court for uncontested layups.
Cappabianca, a future walk-on for the Ohio State football team, scored 16 points and grabbed 10 rebounds.
"He's our Buckeye. He's a guy who works harder than anybody – in practice, outside of practice, waking up in the morning," Hilles said. "We just know that if we get the ball to the big man, he's gonna get a bucket."
McDonald (21-3) ended the first half on a 6-0 run and took a 30-25 lead into halftime. But a two-handed dunk by Hilles with 17 seconds left in the third quarter capped an 8-0 run by Western Reserve (18-6).
McDonald went on another run late in the fourth quarter and led 51-50 with 2:12 remaining, but a couple traps by Western Reserve forced McDonald to burn its last two timeouts.
After the game, Western Reserve head coach Patsy Daltorio said "players make plays". And Velasquez's pass was a perfect example.
The play didn't develop the way Daltorio drew it up during a timeout, but his players found a way to win the game themselves.
"We drew up something, an action to try to get us where we wanted to be, but the way that they pressured, the way they do their thing, the kids made the play," Daltorio said. "They stepped up, they're the seniors and we talked about it since the last time we played them – having that 'step up' mentality and understanding that if you want to be good, you have to want to be in those situations."
McDonald head coach Jeff Rasile said his team didn't play well and needed key players to step up in the fourth quarter.
"We just didn't play well," Jeff Rasile said. "We take the lead and then we make some bonehead plays down the stretch. Just some silly plays in the last two minutes of the game."
Jeff Rasile said his players weren't ready for a close game because his team is used to "30-, 40-point blowouts."
McDonald's Braedon Poole led all scorers with 20 points. Poole also grabbed 10 rebounds, had seven steals and blocked two shots.
Zach Rasile was held to nine points, including only one 3-pointer. He got into early foul trouble, but Jeff Rasile said that didn't have an impact on Zach's play.
"I felt like they kept getting the loose balls and the rebounds," Jeff Rasile said. "They were trying to shut down Zach. Zach's gotta be stronger with the ball. Braedon didn't have a good second half. We needed Braedon in that second half to take the scoring load."
Western Reserve will play the winner of tonight's Valley Christian-East Canton semifinal game on Friday night in Struthers.
Daltorio said a potential district championship would be a great achievement for the senior class. Monday's game was the first time since 2015 Western Reserve played in a district semifinal, let alone played for a district title.
"You talk about the history of our [program], it hasn't been done very many times," Daltorio said. "It's a special group of guys from the top to the bottom – all 15, 16, 17, however many were in the locker room tonight. As much as they're enjoying this and celebrating now, they'll be back to work tomorrow and ready to go do something really special and have their names etched in the record books. It does mean a lot to them and we're looking forward to that opportunity."
More like this from vindy.com