Trump not backing down on tariffs
Related Stories
Staff/wire report
YOUNGSTOWN
President Donald Trump insisted Monday he's "not backing down" on his plan to impose tariffs on imported steel and aluminum despite anxious warnings from House Speaker Paul Ryan and other congressional Republicans of a possible trade war.
Trump Tariffs Story Preview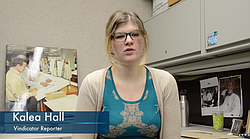 Video
Vindicator reporter Kalea Hall previews a story she is working on about the local impacts of President Donald Trump's proposed tariffs. Be sure to pick up a copy of Tuesday's edition of The Vindicator to read the entire story.
The president said that North American neighbors Canada and Mexico would not get any relief from his plan to place the tariffs on the imports but suggested he might be willing to exempt the two longstanding allies if they agreed to better terms for the North American Free Trade Agreement.
The tariffs proposed last week are 25 percent on steel imports and 10 percent on aluminum. They will be made official in the next two weeks, White House officials said Monday.
Across the Mahoning and Shenango Valleys, the tariffs elicited mixed emotions.
Mitchell Joseph, the man behind a $20-million-plus chill-can technology, can-filling and distribution center, does not think the tariff will have much impact on the cost of his beverage product.
Joseph's company, Joseph Co. International based in Irvine, Calif., has the trademark to the "chill can," which allows a drink to be chilled in less than a minute by turning a knob on the can's bottom.
"Our beverage can comes from a U.S. can manufacturer ... we do not know where the aluminum comes from, but we do know that if some [of it] was imported, the increase in our beverage can would be minuscule to the overall package and the technology inside the can with our overall price profile," he said.
Joe Staffeld, CEO and president of Albco, a nonferrous sand and graphite permanent mold foundry and machine shop in Lisbon, has customers who are steel and aluminum producers and users, and while he does believe there's a global overcapacity of steel production, he knows the tariffs will hurt his customers who use the product.
"I think something needs to be done," Staffeld said. "At the very least this will bring steel-producing countries to the table so they can decide how to handle China."
Last week, Barry Zekelman, executive chairman and CEO of Zekelman Industries, an independent steel pipe and tube manufacturer, told all 2,300 Zekelman employees they will receive a $1,000 annual bonus when Trump's planned steel trade policy changes take effect – and for each succeeding year that the tariffs remain in place.
Wheatland Tube in Sharon, Pa., and Sharon Tube in Farrell, Pa., are both a part of Zekelman Industries.
"The policies announced will have a tremendous positive impact on our ability to compete and thrive," Zekelman wrote in a letter to employees.
Meanwhile, for NLMK Pennsylvania, a supplier of carbon and alloy steel including cold-rolled full hard and hot rolled products in Farrell, Pa., there's a danger the policy change would make it harder for the company to compete, said Randy Seitz, president and CEO of Penn Northwest Development Corp.
"If that happens, there could be a downsizing of their staff or, God forbid, closing their doors," Seitz said.
The Penn Northwest Development Corp. is a nonprofit that works to promote the assets of Mercer County worldwide and works with local companies to help them stay in business.
NLMK is one of the larger employers in the county with about 750 employees. The company, as Seitz explained, can only get the steel product it uses to make steel coil from South America and Russia.
"Why would you punish a company for buying material that isn't produced in the U.S.?" Seitz asked.
The president opened the door to exempting the two countries from the planned tariffs, telling reporters, "that would be, I would imagine, one of the points that we'll negotiate." But he added, "If they aren't going to make a fair NAFTA deal, we're just going to leave it this way."
Republican leaders of the House Ways and Means Committee, meanwhile, circulated a letter opposing Trump's tariff plan.
U.S. Rep. Tim Ryan of Howland, D-13th, encouraged the president to focus on "bad actors," including China and Russia, and called for Canada to be exempted from the tariff plan.
The administration says the tariffs are necessary to preserve the American industries – and that imposing them is a national security imperative.
Trump's tariff plan has been branded "absolutely unacceptable" by Canadian Prime Minister Justin Trudeau of Canada, and Jean-Claude Juncker, president of the European Commission has said the European Union could respond by taxing American goods including Bourbon, blue jeans and Harley-Davidson motorcycles.
Contributor: Kalea Hall, staff writer.
More like this from vindy.com