---
By Sean Barron
BOARDMAN
The trees remain devoid of leaves, a chill still permeates the air and debris, and other reminders of winter are all around.
Nevertheless, many area residents received a jump-start reminder that a change of seasons is just around the corner.
"We like to say that this always kicks off spring," Jennie Brewer said Sunday about the annual Home Builders/Remodelers Association of the Mahoning Valley's Home and Garden Show.
HBA Home and Garden Show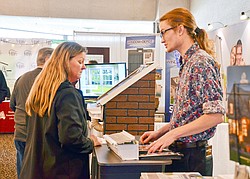 Gallery
The Home Builders and Remodelers Association's Home and Garden Show took place Saturday March 3, 2018 at Mr. Anthony's in Boardman, Ohio. Photos are by Scott Williams.
One hundred booths with 75 local and regional vendors were the main attractions of the three-day show, in its 67th year, which began Friday at Mr. Anthony's Banquet Center, 7440 South Ave.
The free event provided plenty of vendors with expertise in kitchen and bathroom remodeling, both of which are many people's top priorities for restoring or selling their homes, noted Brewer, the HBA's executive officer and event director.
Hundreds of do-it-yourselfers and others came to the show Sunday afternoon to gather ideas for or buy merchandise related to everything from home-security systems to landscaping.
Specifically, attendees saw much of what was available for nearly every facet of home improvements, such as windows and siding, design and hardwood flooring, patio enclosures, drain cleaning, plumbing, cabinetry, waterproofing, masonry, underground repairs, excavating and pressure cleaning. Those interested in making alterations to their homes' exteriors and yards were able to buy merchandise that included lawn structures, propane grills, patio furniture and outdoor fixtures.
Many people yearn for spring, but that time of year also can mean organic matter filling gutters and clogging downspouts. Those with that problem may have found Matt Thompson helpful.
"We use surgical-grade stainless steel, the same material that's used to make heart stints," said Thompson, a marketer with Leaf Filter Gutter Protection, a 13-year-old Hudson-based business.
The filtered devices are placed at an 11-degree downward angle over gutters, which allows only water to seep through while preventing leaves, pollen and other matter from sticking to them, he explained. The gutter guards are also made from vinyl, which avoids any metal-to-metal contact with gutters so that no rust can form, Thompson continued.
"Once they're on, you never should have to clean your gutters again," he said.
In addition to installing the product, the business offers cleaning of downspouts between the ground and the gutters, Thompson added.
Selling top-of-the-line windows, doors, siding and roofing materials – along with employing a bit of psychology – are the main emphases for Richard Begalla, owner of Canfield-based Window Depot of Youngstown.
"We take a more consultative approach to home improvement," he explained. "I sit down [with customers] and go over all options so they have an understanding of what best fits their homes and budgets."
Begalla, who's been in the home-improvement business 14 years, said that deciding on and making major changes to homes often is an emotional experience for people. Unlike many similar companies that try to "tell customers what they need without consulting them," he tries to focus on offering an "intimate level of service" for people, Begalla continued.
The family-run business's primary offerings include triple-pane windows, insulated siding that fits over studs and more efficiently keeps homes cooler in summer and warmer in winter, fiberglass doors immune to insect damage and wood rot, and specialized roofing. All products are made locally, he added.
Also assisting Begalla at the event were his mother, Rose Begalla, and sister, Angela Kermec.
The Home and Garden Show's appeal also lies in the fact that many people now prefer to spend vacations at home. Consequently, they're investing added labor in their backyards, decks, patios and overall landscaping projects, said Brewer, event director.
"A lot of people take their vacation time and money and invest in their homes, especially since travel is more expensive," she said.