Burke murder trial resumes today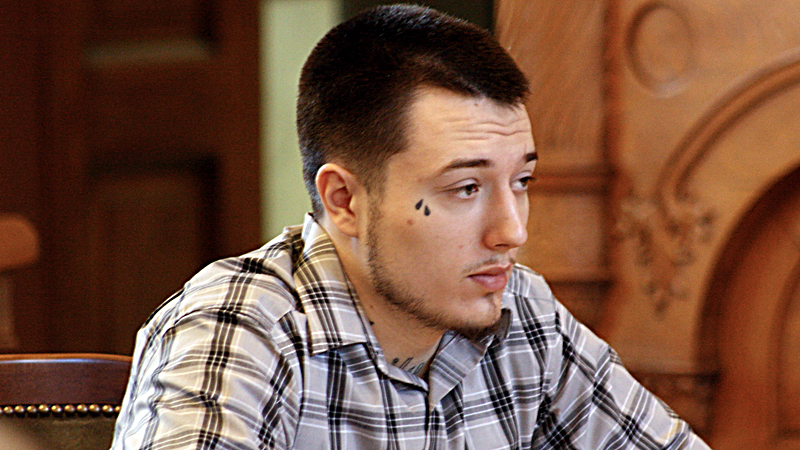 ---
By ED RUNYAN
runyan@vindy.com
WARREN
The Austin Burke aggravated-murder trial, which resumes this afternoon in Trumbull County Common Pleas Court, may test the ability of the 12 jurors selected Monday to determine when someone is lying or not lying.
Burke, 19, of Miller South Road in Bristolville, is charged with the June 12 aggravated murder and aggravated robbery of Brandon Sample, 22, of Garfield Drive Northeast and the June 20 aggravated robbery of the Pizza Joe's restaurant in Cortland.
During an earlier hearing in the case, Chris Becker, assistant county prosecutor, told Judge Andrew Logan that Burke told "numerous witnesses he shot and killed the ... victim and left him on Hatchet Man Road, which is where ... police found him."
That comment prompted Atty. Bradley Olsen Jr., one of Burke's attorneys, to say, "People lie."
Hatchet Man Road is the name some people use to refer to Peck Leech Road in Bristol Township in the Grand River wildlife preserve, documents say.
The trial is expected to include testimony from several of Burke's friends.
Court documents say Burke told several of them about the things that happened between Burke and Sample the day Sample went missing, including one person who said Burke told her he was taking Sample to Hatchet Man Road to rob him of drugs.
Burke told a Warren police detective Sample had picked up Burke at Willow Lake on June 11 and drove Burke home, but Burke said that was the last time Burke saw Sample.
Burke said he had known Sample before that day because Sample had been a corrections officer for the Ohio Department of Youth Services while Burke was locked up there for two years on a Girard burglary case.
Sample's Facebook page says he worked as "Juvenile Correctional Officer at Ohio Department of Youth Services."
Detectives also spoke to a female teen who told said Burke told her he had killed Sample on Hatchet Man Road and put Sample's car near the Niles bike trail after it had run out of gas.
The case will also depend on scientific evidence, including the ability of law enforcement to track a person's movements through a person's cellphone.
For instance, law enforcement has said the "last known location" of Sample's phone was in Bristol Township at 4:38 a.m. June 12, the day they believe he was killed.
To better educate jurors on the locations involved, they were taken Monday afternoon to Hatchet Man Road, the location on the Niles bike trail where Sample's car was found, and the downtown Cortland area where the pizza-shop robbery occurred.
If Burke is convicted of Sample's murder, he could get life in prison without parole eligibility. Judge Logan asked Burke and Becker before jury selection began to state for the record whether prosecutors had offered Burke any type of plea deal.
Becker said Burke was offered a plea to a lesser murder charge. It's penalty would have been life in prison with parole eligibility after 18 years. Burke said he understood what was being offered and refused the deal.
More like this from vindy.com