South Range surges to district title with third-quarter run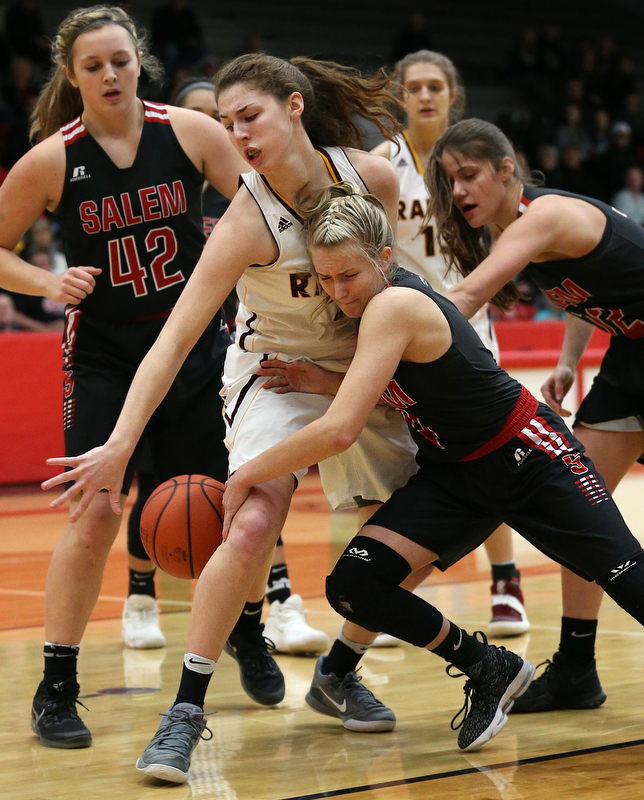 ---
Salem vs. South Range Basketball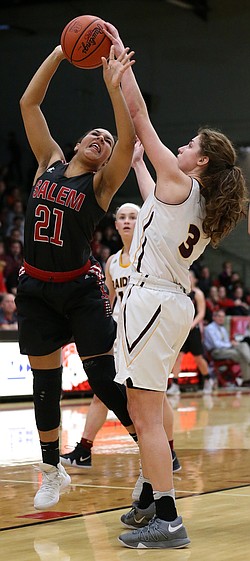 Gallery
The girls basketball teams from Salem and South Range faced off on Saturday March 3, 2018. Photos are by Michael Taylor.
South Range surges to district title with third-quarter run
By BOB ETTINGER
STRUTHERS
South Range guard Samantha Patrone and post Dani Vuletich were feeling pretty good as they entered the locker room at halftime of a Division III district championship battle with Salem at Struthers High School on Saturday. The conversation coach Tony Matisi had with the Raiders during the break only heightened the mood leading to a third-quarter surge in a 53-38 victory over the Quakers.
"Coach just said we can't let up," Patrone said. "We had to keep pushing. It was time to stomp on them and not let them up."
Patrone's 3-pointer in the final minute of the third put the Raiders up, 48-24, heading into the final eight minutes.
"That was the nail," Matisi said. "That made [the lead] 24. That was the nail that let us breathe easier, but you're never too happy."
The Raiders (21-4) appear in the regional tournament for the third time since Matisi took over and will play Doylestown Chippewa in a regional semifinal Wednesday at Cuyahoga Falls.
"That's the longest 32 minutes in any day. Ever," Matisi said. "I've been to seven [regionals] with Lowellville and now three with South Range and it doesn't get any easier. I've been in this business long enough that we've looked at film of both [Chippewa and Orrville, who lost in the district final]. Chippewa is good, but it's not the team it's been in the past. We'll give it a shot. We'll work hard and get ready for Wednesday."
Patrone and Vuletich were at the forefront of that wave for the Raiders with seven points each during the third period in which South Range outscored the Quakers, 20-5.
"I just kept moving," Patrone said. "My teammates are good passers and they got me the ball and I scored."
Said Vuletich: "I had to step up. This was the biggest game for me. It was the Game of the Week, it's a district final and the crowd was full. I wanted to show them what I could do."
South Range knew Salem wasn't going away at the intermission and resolved to roll with the punches and come out fighting on the other side.
"We were all screaming in the locker room at the half," Maddie Durkin said. "We knew [the Quakers] were going to punch back and we were going to take that and punch back. That's what we did and we're on our way to regionals."
Durkin led the Raiders with 17 points, including three 3-pointers, and grabbed 10 rebounds. Vuletich also had a double-double with 11 points and 17 rebounds and Izzy Lamparty scored 11 points.
The Quakers (18-7) were just 1 of 10 from the field in the third in falling behind.
"We didn't shoot very well today," Salem coach Vince Nittoli said. "We were a little better than 20 percent (14 of 52, 26.9 percent) and they were close to 50 percent (19 of 40, 47.5 percent). It's hard to win big games when you can't put the ball in the hole. I'm proud of the girls. They played to the final buzzer. I think this is the group that will start the turnaround for Salem basketball. They took this loss very personally. They took a full-hearted approach to this game."
Echo Mayer-Kutz scored eight of her 11 points in the fourth, but Salem could get no closer than the final spread of 15 points. Kyla Jamison added 10 points for the Quakers.
"They were still competing," Nittoli said. "I had told them to take a one-possession approach. I told them to get a stop, then get the score, then go do it again one possession at a time. They listened. They're so much fun to coach. They play with heart."
Two free throws from Allee Davidson had Salem to within a point, 13-12, 12 seconds into the second period before Lamparty scored on a feed from Durkin and Durkin knocked down a triple to give the Raiders a 20-12 lead.
Consecutive 3-pointers from Jessica Slocum and Paige Bailey had Salem to within a possession, 22-19, of South Range, but Durkin, Brooke Sauerwein and Marlaina Slabach each tallied in the final 1:09 of the half to put the Raiders up, 28-19, at the intermission.
"We had gone up nine with two and a half to go," Matisi said. "They cut it to three and we got a couple of quick ones and got it back to nine. That settled us down going into the dressing room."
More like this from vindy.com