Lisbon comes from behind to knock off Valley Christian
Lisbon vs. Valley Christian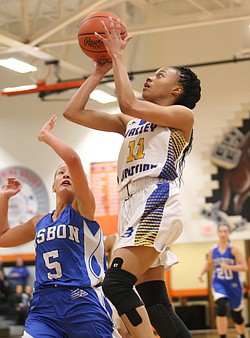 Gallery
The girls basketball teams from Lisbon and Valley Christian faced off on Saturday March 3, 2018. Photos are by Dustin Livesay.
By Greg Gulas
MINERAL RIDGE
Autumn Oehlstrom's two free throws with six seconds remaining gave Lisbon girls basketball team a come-from-behind 48-47 victory over Valley Christian in a Division IV district final Saturday at Mineral Ridge High School.
The title is the program's first since 1991 when head coach Steve Stewart led the Blue Devils to a regional title and state semifinal appearance.
"I knew that I had to make at least one of my attempts in order to force overtime, but after the first one went through I just knew that my second attempt was going to go in as well," Oehlstrom said. "We've had an amazing year and it's all because of the challenges that we were able to overcome. As the season went on, we worked as a team through the downhill portion of our season and that just made us stronger."
The seventh-seeded Blue Devils (17-9) are now 4-0 in the postseason, having defeated Lowellville and McDonald in sectionals with wins over both Western Reserve and Valley Christian in the district.
Lisbon also avenged a season-opening loss to the fifth-seeded Eagles (61-44 on Nov. 27). The Blue Devils will meet Dalton, which won the Norwayne district Saturday with a 47-45 victory over Rittman, in a regional semifinal Thursday at Massillon Perry.
"After that first game against Valley Christian, we knew what we had to do in order to get better and worked on that all season long," Oehlstrom said.
The game featured four ties and 11 lead changes with the Eagles opening a 14-10 lead after the first eight minutes behind six points each from Ne'Syiah Taylor and Kristen Gill.
Taylor finished with a game-high 15 points while Imane Snyder was the only other Valley Christian player in double figures with 12.
Back-to-back 3-pointers by Izzy Perez and Chloe Smith gave the Blue Devils their first lead of the game midway through the second period, 22-17,. They led 28-24 at halftime.
Perez's 13 points led Lisbon in that season opening game at Valley Christian.
"The atmosphere this afternoon was absolutely electric," Perez said. "We felt that it was going to come down to which team wanted it more and we really worked hard for this win today.
"Right before Autumn was getting ready to go to the free-throw line, I told her that I wouldn't want anyone else but her on the line in this situation. She was definitely up to the challenge."
The Valley Christian defense bothered Lisbon a good portion of the game, making 16 steals and forcing 25 turnovers.
That defense held the Blue Devils to just six points in the third frame, Snyder scored five of her points in the period and the Eagles built a 37-34 margin heading to the final eight minutes.
"We missed quite a few conversion opportunities and struggled around the hoop," Eagles head coach Bill Hoelzel said. "You simply cannot make those types of mistakes against a good team like Lisbon and expect to win."
Two free throws by Oehlstrom with 4:07 remaining gave Lisbon a 46-45 lead midway through the fourth period, but a 5-0 run helped Valley Christian regain a 47-46 advantage, setting the stage for Oehlstrom's heroics.
"They had control of the ball, we tried to get up and deny and they just let it get away from them. We never gave up," Blue Devils head coach Jamie Entrikin said. "Autumn works really hard is one of our very best free-throw shooters, she just doesn't get to the line that often in a game.
"There's a lot of tradition with our program and it's been a long time since we have gotten this far. Something just clicked after Beaver Local beat us. We talked about it in a team meeting, deciding that we couldn't play like this anymore and became a confident group."
The Lisbon defense forced 19 Eagles turnovers and made all six of their free-throw attempts, all coming in the final quarter.
Perez led the Blue Devils once again with 13 points with both Oehlstrom and Maddie Liberati adding 10 points apiece.
More like this from vindy.com