Valley native battles to claim Charles Manson's body; estate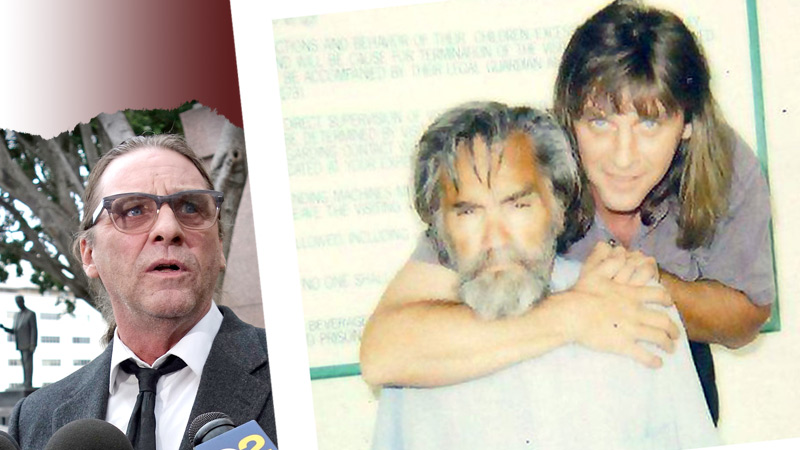 ---
By Amanda C. DAVIS
The body of notorious cult leader Charles Manson remains locked in a cooler as the battle over his remains and estate heats up in two California courtrooms.
At the center of the case is Wellsville native Michael Channels, a longtime Manson pen pal and memorabilia collector.
Channels, 52, of Santa Clarita, Calif., was a toddler when Manson's followers brutally murdered nine people, including pregnant actress Sharon Tate.
Channels and at least three others – including a purported son and grandson – have filed paperwork in California to claim the body and estate.
Manson died Nov. 19, 2017, at 83 while serving a life sentence for his role in the 1969 slayings.
Channels has filed a copy of a will he said Manson sent him in 2004. He said the document disinherits all known family members, naming Channels sole heir.
Some say Manson's estate could be worth millions, given his artwork, music and other memorabilia.
Channels wrote numerous letters to Manson in prison before getting a response. They stayed in touch more than 20 years and visited more than 20 times at California State Prison in Corcoran, where Manson was kept.
"He really became like a friend," Channels said during a telephone interview. "I liked him a lot."
He described Manson as "charming," sometimes emotional and depending on the day, sane.
"He was a nice guy; he was a mean guy," Channels said. "He had lots of different faces."
Channels has gotten used to being called "crazy," a "satanist" and "cult member." He doesn't bother himself with others' opinions and insists he's not out for money or fame.
"I didn't ask to get this will," he said, but explained he's ready for the fight even though it may cost him a good deal of time and money. "It's a moral issue now."
A decision on Manson's body could be made Wednesday in Kern County, Calif., where he died. A Los Angeles probate court will hear the estate case Friday.
Debra Tate, Sharon Tate's sister, was 16 at the time of the murders. Even though Manson "was a monster," she said, her Catholic faith helped her to forgive him.
"His body is laying there in the coroner's office, and I think it's horrible," she said, during a telephone interview. "I think he should have dignity in death."
She knows people may not understand her compassion toward Manson but said every human being, regardless of the life lived, should have dignity at the end.
As for the fight over Manson's body, Debra Tate hopes all parties come to an agreement soon to honor Manson's wish for cremation.
"People are just doing this so they can profit off his name," she said.
Bryan Walters, deputy counsel for Kern County, said by telephone he doesn't think the case will be decided early this month because of challenges involving jurisdiction and validity of wills.
If Channels is successful, he said he plans to honor Manson's wishes to be cremated, with ashes scattered in the desert.
Walters said all parties intend to cremate Manson, but one or more turned down a proposal to cremate and store the ashes until the cases are decided.
"We have a heavy flow of bodies coming in all the time," he said, explaining storage space is limited.
Only one or two employees at the coroner's office know where Manson's body is, Walters said.
Limiting access in high-profile cases cuts the risk that a picture of Manson's body will end up in a tabloid, he explained.
Channels, who is working with three attorneys, opposed cremation under the terms presented by a group of attorneys because it goes against what Manson wanted. He said he tried to work with the coroner's office at the beginning but was ignored and isn't interested in "what is convenient for the mess they created."
Channels still has a brother, aunt and uncle in Columbiana County. He said family members have been targets of harassment because of his involvement with Manson.
A complaint filed last year with the Columbiana County Sheriff's Department by Channels' uncle said he was being harassed by phone. He said a woman made repeated, threatening calls because she thinks what Channels is doing is "sick."
Channels moved to California in 1985 and is a self-employed contractor. He's married with an adult stepson and describes himself as harmless.
Channels said he's never been in trouble with the law and doesn't do drugs or drink alcohol.
He has a wide-ranging knowledge of high-profile killers, at one time corresponding with serial killer John Wayne Gacy.
Channels said time spent as a kid at carnival "freak shows" and haunted houses left their mark.
"Ohio kind of sparked my interest in the dark side," he said. "I've always been into things other people aren't, but I'm not a dark person."
Debra Tate is also in California, in Riverside, and is battling breast cancer. She is the only remaining member of her family. Debra Tate's younger sister, mom and dad all died "of disease and heartbreak" related to the murders, she said.
She doesn't dwell on Manson's role in her sister's death but called his followers "the first domestic homegrown terrorists" because they intended to start a race war by murdering people that summer.
"They changed the course of our lives," she said of her family. "They changed the course of history."
More like this from vindy.com