From there to here, from here to there, students celebrate Seuss everywhere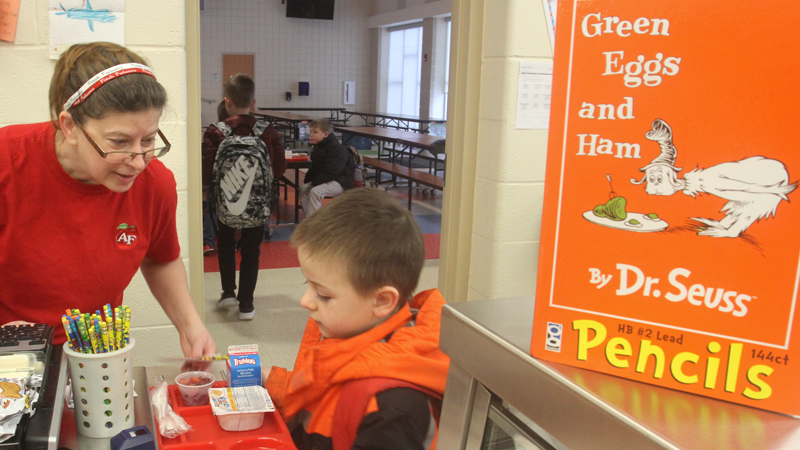 ---
By SAMANTHA PHILLIPS
sphillips@vindy.com
AUSTINTOWN
Seuss was the word at the Austintown Elementary, as students celebrated Dr. Seuss' birthday Friday with green eggs and ham for breakfast and other Seuss-inspired menu items for lunch.
Kindergarten through second-grade students wore hats from Seuss' "Cat in the Hat" book and some students wore clothes inspired by the books, such as a dress covered in designs from "Oh, The Places You'll Go."
All week, the students read some of the author's classic picture books, filled with zany and colorful characters, and they colored pages with Dr. Seuss characters to be hung up in the cafeteria.
First-grader Jameson Brauer said he always liked "How the Grinch Stole Christmas," and had the chance to read other Seuss books this week that he'd never encountered before. "I like them because there are so many rhyming words," he said.
Cindy Lou Todd, the cafeteria manager, aimed to create a menu with food names inspired by the books.
For breakfast, 355 kids had "green eggs and ham," "flat hat and jam" and fresh fruit. For lunch, they had "zorny zorn dogs," "green thneeds" and "truffulo tufts," which were corn dogs, green beans and broccoli.
"I sat and listened to some of the Seuss audiobooks to get some inspiration for the menu," she said.
Todd got to the school at 6 a.m. to get everything ready with six of her cafeteria workers.
"They gave 150 percent for this," she said.
Prizes of Dr. Seuss books, toys, games and stuffed animals were also given to randomly selected students.
"There's a lot of excitement, the kids really like it," said food service director Alexis Weber. "Everyone loves the fun stories from Dr. Seuss."
Todd said it's important to her that they provide fun events for kids during lunch throughout the year.
"I do this because it's fun, but I also hope it encourages them to read. Learning is fun. I read the Seuss books to my grandchildren and they love it," she said.
More like this from vindy.com