Teens help library programming at TAB meeting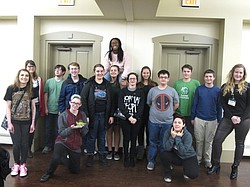 Photo
Neighbors | Zack Shively.The Boardman library's Teen Advisory Board, or TAB, met in the library's meeting room on Jan. 3. The group of teenagers plan teen related events at the library. They recently created a beginner's Dungeons and Dragons group that met for the first time on Jan. 17.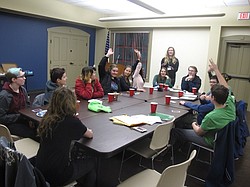 Photo
Neighbors | Zack Shively.The TAB meeting included food and drinks, a discussion about what they have read in the last month and a game. The help plan the library's young adult reading recommendations. Pictured, the group plays a game called "Werewolf."
by ZACK SHIVELY
The Boardman library hosted its monthly Teen Advisory Board (TAB) meeting on Jan. 3.
The board organizes different events for the Boardman library and helps the library connect with teenagers. Boardman librarian Amy Burkard led the meeting. Fourteen teens came to the library for the event.
The meeting began with the teenagers grabbing pizza and drinks. Burkhard talked to them about some of the happenings at the library, included a "Bookopoly" program where readers get a chance to win prizes for filling out a Monopoly board with the books they read from January until April.
She also reminded the group about their new program while they ate. The program, titled "Apprentice's Inn," is a new beginner's Dungeons and Dragons club for teenagers in grades seven through twelve. The TAB created the event with the library.
After they finished eating, they went around the room and all talked about the book they were reading at the time. Some said they read books for school, such as Harper Lee's "To Kill a Mocking Bird" or F. Scott Fitzgerald's "The Great Gatsby." Others read what they wanted, such as "The Lightning Thief" by Rick Riordan and "Reality Boy" by A.S. King.
They then wrote book letters, a summary of the book and whether or not they recommend it. Burkard uses these suggestions for the library's featured young adult book section. She also asked the group to write down themes for next month's section.
After their book letters, they finished the meeting with a game. Every month, they play a different game. This month's game was "Werewolf," where they led a village that had a werewolf problem. The villagers had to find the wolves before the wolves knocked the villagers out of the game.
More like this from vindy.com