Man cited for driving into West Side home
Staff report
YOUNGSTOWN
Police issued a citation to Christopher Moffo, 57, of Youngstown, the driver of a truck that collided with another car before flipping and crashing into a home in the 2400 block of Old Furnace Road on Thursday afternoon.
Moffo was cited for reckless operation of a vehicle and having expired plates. He is facing a criminal charge of tampering with evidence.
Car vs House Crash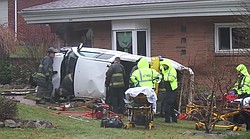 Video
A car crashed into a house on Old furnace Rd in Youngstown today.
According to the police report, when officers arrived they found Moffo trapped in the overturned vehicle eating an "unknown substance wrapped in foil." The report indicates officers instructed Moffo to stop eating the foil balls, but Moffo ignored their commands.
Moffo and the car driver were taken to St. Elizabeth Youngstown Hospital. Their conditions were not available at press time Thursday night.
More like this from vindy.com