Engineer: 'There's no money tree' to fix roads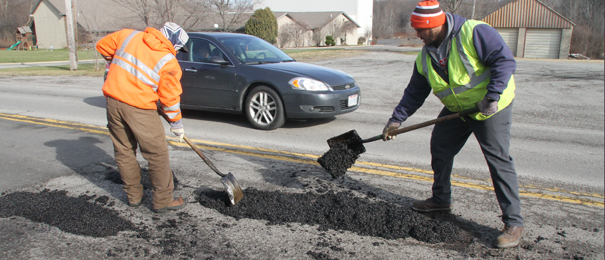 ---
By Justin Wier
YOUNGSTOWN
Mahoning County Engineer Pat Ginnetti said complaints about potholes have become personal as his office attempts to deal with the problem despite crumbling infrastructure, increased costs and stagnant budgets.
"We're spiraling backward," Ginnetti said at Thursday's county commissioners meeting. "If I put all $10 million [of the engineer's office budget] into roads, we couldn't touch the issue."
Two-thirds of the county's roads have received the lowest rating from the Ohio Department of Transportation, and Ginnetti said it would take $70 million to fix them all.
Meanwhile, Ginnetti said his crews already have used 1,000 tons of cold patch to fill potholes this year. Historically, his office may use 1,000 tons throughout the course of an entire winter.
"This may be the worst winter I've experienced since I took office [in 2013]," he said.
The Ohio Department of Transportation has not fared much better. Crews continue to fill potholes along Interstate 680, which is scheduled for repaving this summer.
The cold patch only provides a temporary fix until plants begin to produce hot asphalt later in the year, Ginnetti said.
But many county roads require a more permanent solution.
It costs $100,000 to pave a mile of road, which provides a seven to 10 year lifespan. Rebuilding a road lasts longer but increases costs to $1 million per mile.
While Ginnetti receives several phone calls from county residents who demand pristine roads in exchange for their tax dollars, the engineer's office does not have access to general fund revenues from sales and property taxes.
Two sources fund county engineer's offices – the Ohio gas tax and license-plate fees.
"There's no money tree," Ginnetti said.
State lawmakers have not increased the 28-cent-per-gallon gas tax since 2005. By contrast, Pennsylvania has the highest gas tax in the country, at 58 cents per gallon, with 27 cents in raises since 2014.
The federal gas tax has remained at 18.4 cents per gallon since 1993.
In Ohio, the state divvies up 11 percent of its gas-tax revenue so that each of Ohio's 88 counties receives an equal share.
That results in Columbiana County, which maintains 169 miles of road, receiving the same amount as Mahoning County, which maintains 485 miles of road.
County Commissioner David Ditzler said state lawmakers don't want to be responsible for increasing taxes, so they continue to push issues back onto local communities.
"We need to go to the ballot box and say, 'Unless you're going to return money to local communities, we need change,'" Ditzler said.
License-plate fee revenue correlates more closely with population.
State lawmakers did provide counties with the ability to add $5 to license plate fees, which currently sit at $34.50.
Ginnetti estimated that would result in $1.3 million to $1.4 million in revenue that would go toward roads and bridges.
The county commissioners have considered the increase, but they have yet to make a decision.
The Ohio House also sent a bill to the Senate on Wednesday that would send half of any state surplus revenue to a Local Government Road Improvement Fund.
More like this from vindy.com