Howland guards come up big against Girard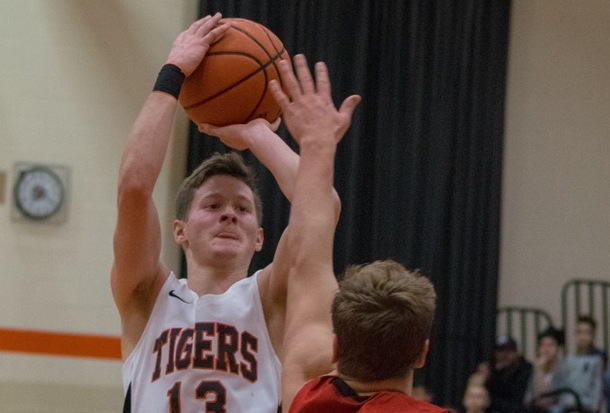 ---
By BOB ETTINGER
sports@vindy.com
HOWLAND
Howland guards Frank Rappach and Connor Tamarkin did their best impersonations of tigers waiting for the perfect moment to attack their prey.
When the time came, both found a way to sink their teeth in deep in the Tigers' 64-56 victory over Girard in a Division II sectional final at Howland on Friday night.
Rappach (20 points) connected on consecutive 3-pointers to spark a 16-2 run over a four-minute span as the Tigers took a 45-27 lead with 2:04 remaining in the third quarter.
After the Indians whittled their deficit to two, 53-51, Tamarkin (18 points) knocked down his own triple from the top of the key with 2:33 to play in the fourth.
"[Tamarkin] struggled to finish around the basket and that's normally his bread and butter," Howland coach Dan Bubon said. "He's a calm kid."
Rappach was perfect on four attempts from the foul line and Tamarkin made both of his attempts over the final 30 seconds to seal the victory.
"Frank is so gutsy," Bubon said. "He has that little-guy syndrome. He feels he has to prove himself. I wouldn't trade him for anybody."
Second-seeded Howland (18-5) will play sixth-seeded Struthers in a Division II district semifinal at 7 p.m. Thursday at Boardman High School.
"[Struthers] is extremely talented," Bubon said. "I know they play a bunch of young and talented kids. Their scorers have been all over the place, but that's being young. They're playing their best basketball right now. We have to play really well to beat them, there's no question about that."
Tamarkin scored on a pair of layups and Rappach connected on a 3-pointer to put Howland ahead, 9-0, with 5:14 left in the first period before David Blackmon hit on his own triple and Christian Graziano (10 points) completed a conventional 3-point play to get Girard (12-12) even at to start the second.
Nathan Barrett's bucket with 44 seconds left in the half put the Tigers up, 25-23, at the break.
Coming out of the intermission, Rappach connected first on a triple from the top of the key, then moved slightly to his right and hit another to jumpstart the Tigers' third-period run.
"Those were huge for us," Tamarkin said. "Frank can always get on one of those streaks where he hits three or four 3s in a row. When that happens, we have to get him the ball. That was huge for us."
Girard scored the first 11 points of the final period behind a 3-pointer and a drive to the rack from Blackmon and consecutive threes from Ferdinand Martinez to get within five, 49-44, with 5:28 remaining in the fourth.
"[Martinez] is a spark plug," Girard coach Craig Hannon said. "They used to call Vinnie Johnson 'The Microwave' because he came in and gave his team a spark. That's Martinez for us. I've coached Girard kids for six years now and there's one thing I can tell you. No matter who is in that other jersey, these kids are going to fight and they won't quit. They responded to every bit of adversity they faced this year."
Austin O'Hara (18 points) later scored on his own 3-pointer and added a putback to get the Indians to within a bucket, 53-51, with 2:59 remaining.
Tamarkin's 3-pointer stopped the run for Howland.
More like this from vindy.com