Fitch's Sutton one of 3 unbeatens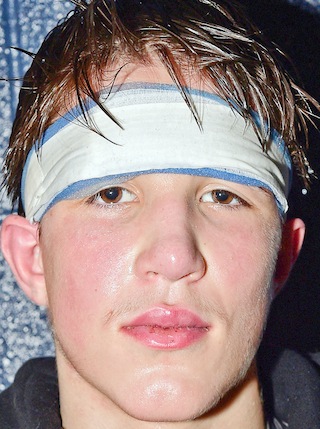 Photo
By Brian Dzenis
AUSTINTOWN
It took most of the season, but Gus Sutton has come around to liking life at the top of the wrestling world.
"This is a lot more fun than last year," Sutton said. "Winning is fun and once I realized that, things got a lot better."
The Austintown Fitch junior (132) embraced and excelled in the underdog role last year, turning a fourth-place finish at the Division I North Canton Hoover district tournament into a state semifinals appearance at the state tournament.
Sutton travels to Hoover this year ranked No. 3 in the state and as one of three undefeated wrestlers from the Mahoning Valley at 41-0. He's joined by West Branch's Christian Wayt (113, 34-0) and Girard's Jack DelGarbino (285, 41-0).
"I think for Gus, the difference is his confidence, his focus, his understanding of the sport and his positioning. He's improving every time he steps on the mat," Fitch coach John Burd said. "He's travelling all over to get extra matches and he gets extra work in the offseason.
"Now at this time of year, he's concentrating on refining his technique and racking up points."
While Sutton trains this week at his own school, Girard coach Jim Cardiero sent DelGarbino to train with Pymatuning Valley senior Gaige Willis (220), the state's No. 1 wrestler in D-III. The rest of the team was in Austintown.
"You're wrestling a state champion who hasn't lost since his sophomore year," said Cardiero of DelGarbino's training partner. "It's just that competitiveness and that desire to win."
LAST CHANCE
Boardman's Derek Slipkovich (113) decided to take better care of himself and now the senior now finds himself in the district tournament for the first time in his career. He's previously not made it to sectionals because he couldn't make weight.
"I would just go at whatever I weighed. I wouldn't try to cut weight or anything," Slipkovich said. "I just got sick of losing and seeing kids get better than me. I put so much into the sport, I just didn't want it to go to waste."
At 33-8 on the season, Slipkovich is the winningest Spartan wrestler going to North Canton Hoover after junior Mike O'Horo — who was ranked No. 5 in the state at the end of the regular season — couldn't compete in sectionals because he didn't make weight, something coach Dom Mancini said was "very unfortunate," but it doesn't affect the rest of the team.
"Once you get into the tournament, everything becomes an individual effort," Mancini said.
BIG NUMBERS
Canfield's contingent of 13 wrestlers travelling to Alliance is the biggest among area teams with every weight class save the 145-pound class being represented. Beaver Local is the runner-up with 11 wrestlers going to Claymont and Fitch is sending 10 to Hoover.
LIBERTY'S LONG WAIT
After Columbiana broke its 30-year stretch between state tournament appearances, Liberty took over the Valley's longest drought between Columbus appearances at 17 years.
"Our chances are pretty good. We have two sectional champs coming out in Tyler Wilson (126) and Mouad Elouaddi (170)," Leopards coach Hadi Hadi said. "Tyler has a really nice draw in the lower bracket, he has a nice quarter bracket draw. It's kind of wide open and he could find himself in the semifinals."
More like this from vindy.com