76ers end 11-game skid against Cavaliers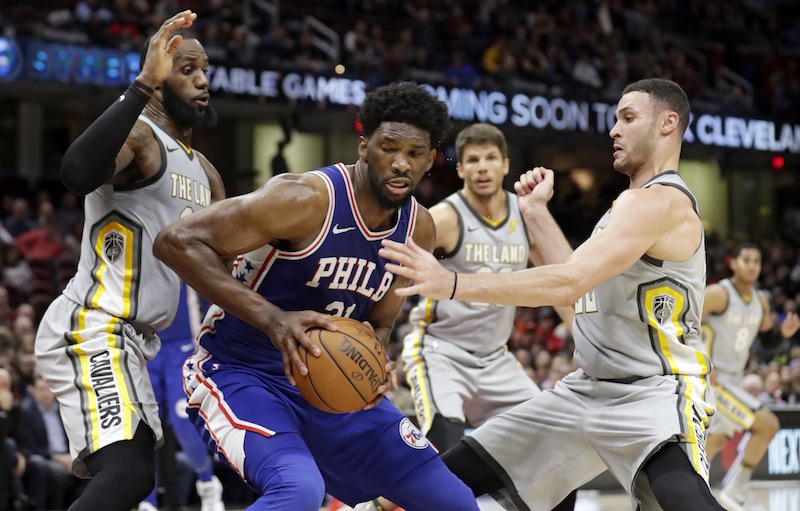 ---
Associated Press
CLEVELAND
J.J. Redick scored 22 points, Joel Embiid had 17 points and 14 rebounds, and the Philadelphia 76ers delivered an in-person sales pitch to LeBron James by beating the Cleveland Cavaliers 108-97 on Thursday night to end an 11-game losing streak against the Eastern Conference champions.
Ben Simmons scored 18 and Dario Saric 16, including a critical 3-pointer in the closing minutes, for the rising Sixers, who are 8-2 since Feb. 6.
James finished with 30 points, nine rebounds and eight assists.
Earlier this week, three billboards urging the three-time champion to sign as a free agent this summer with Philadelphia were unveiled on a busy highway outside Cleveland. James said he hadn't seen the signs, which were paid for by a Pennsylvania company, but he was pleased that fans want him.
The Sixers gave him a glimpse of what he could be joining.
Philadelphia nearly blew a 13-point lead in the fourth quarter as the Cavs, who never led, got within 95-94 on Kyle Korver's 3-pointer with 2:25 left. But the young Sixers showed poise by scoring the next eight points to seal an impressive win.
Tempers flared in the closing seconds when Saric dunked and Cleveland's Jordan Clarkson threw the ball off his back. Clarkson was ejected but that didn't stop players from jawing at each other.
After the final horn, James walked to Philadelphia's end of the floor and to hug both Simmons and Embiid, embraces that had to make Cleveland fans cringe.
Embiid sat out the Sixers' previous visit to Cleveland on Dec. 9 because he wasn't playing back-to-back games at that time.
The Cavs weren't so lucky this time and struggled to defend the 7-footer, whose step-back jumper put the Sixers up 100-94 with 1:28 remaining.
The Cavs played without starting guard J.R. Smith, who was suspended one game by the team for detrimental conduct. Smith attended the team's morning shootaround, but coach Tyronn Lue indicated something happened after the workout that led to the one-game ban. Lue expects Smith to practice today and play Saturday against Denver.
TIP-INS
Cavaliers: Rodney Hood started for Smith and scored 11 on 5-of-14 shooting. ... James (927) moved past Michael Jordan (926) into fourth place for the fourth-most 20-point games. ... James had a jaw-dropping, behind-the-back dribble in traffic that went between Tristan Thompson's legs before he scored and was fouled. James looked up and watched the replay before shooting his free throw. ... James moved into a club by himself Tuesday when he became the first player with 30,000 points, 8,000 rebounds and 8,000 assists.
LOVE UPDATE
Cavs All-Star forward Kevin Love remains weeks away from his return, but he's making steady, significant progress. On Thursday, he did some on-court work while wearing a padded glove to protect the fracture he sustained on Jan. 29.
The Cavs have not changed their timetable on Love, who is not expected back until the final week in March.
He's averaging 17.9 points and 9.4 rebounds.
More like this from vindy.com