West Branch survives test against Howland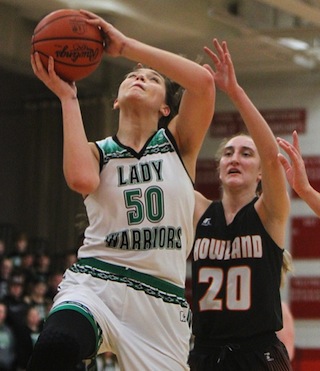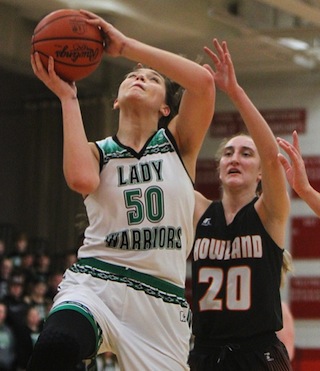 ---
By Tom Williams
AUSTINTOWN
Trailing the No. 1 Division II team in the state by 10 at the start of the fourth quarter, it appeared the Howland High School girls basketball team didn't have a prayer of winning a district crown.
But when John Diehl turned loose sophomore guards Maria Dellimuti and Ashley Chambers, undefeated West Branch faced its toughest challenge.
The pesky Tigers sliced the deficit to two before the Warriors made five of their final six free throws in a 43-36 victory Thursday at Fitch High School.
West Branch vs. Howland Playoff Girls Basketball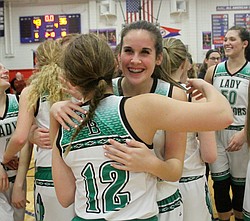 Gallery
West Branch battled Howland in a playoff game of girls basketball at Austintown Fitch on Thursday March 1, 2018. West Branch would come out on the winning end.
"They pressed us and we turned it over, missed a couple of shots," West Branch coach Walt DeShields said. "They got back into the game by making shots.
"And a couple of them were really big shots."
Senior guard MacKenzie Maze launched the comeback with a 3-pointer. After the Warriors' Peyton Alazaus scored, the Tigers' Alex Ochman and Maze made baskets to make it 38-33. Maze scored again, drawing a fourth foul on Hannah Ridgway. Maze's free throw reduced the West Branch lead to 38-36 with 1:59 to go in regulation.
"They had fresh legs," Howland coach John Diehl said of Dellimuti and Chambers. "They really harassed them a lot better. We got some good steals. The pace of the game picked up."
DeShields said having only a two-point lead late "was a first. Our closest game [before this] was nine ... at Carrollton."
The Warriors (25-0) responded by using their size advantage to regain control. Kayla Horvorka's first free throw circled the rim then spun out with 1:29 to play. Her second one was perfect.
In the final minute Alazaus and Sarrah Tennefoss each made two free throws to secure the Warriors' third district crown in four seasons and another trip to Barberton. West Branch will meet Akron St. Vincent-St. Mary at 6:15 p.m. on Tuesday.
"Winning never gets old, it's definitely a pleasure," said senior center Natalie Zuchowski, who scored 12 points and made five rebounds. "I loved the crowd, I loved having a close game like this."
Alazaus also scored 12 points.
Maze led the Tigers with 13 points while Ochman scored 12 and made eight rebounds.
"We wanted this game more than anything," Maze said. "We've been preparing for it all year and we knew we'd have to fight.
"We had four seniors out there, we weren't giving up no matter what."
Maze said the Tigers' "speed and defense were big factors, for sure. They have a 6-3 player [Zuchowski], but our help defense was prepared. She did have a great game, but we weren't really intimidated, I think we were more prepared than anything."
The Warriors never trailed, opening up a 15-5 lead late in the first quarter with a balanced scoring attack.
Howland senior Kendyl Buckley sparked a second-quarter surge to keep the Warriors within reach. Trailing 19-9, Buckley made a basket and Maze followed with a 3-pointer. After Alazaus scored a 3-pointer, the Tigers closed the half on a 6-2 run, with Buckley scoring two baskets.
"Buckley hurt us in the first half," DeShields said. "She brought them back into the game with those elbow jump shots."
Ahead 24-20 at halftime, the Warriors outscored the Tigers 12-6 in the third quarter.
More like this from vindy.com