Cruze posts 10 months of sales declines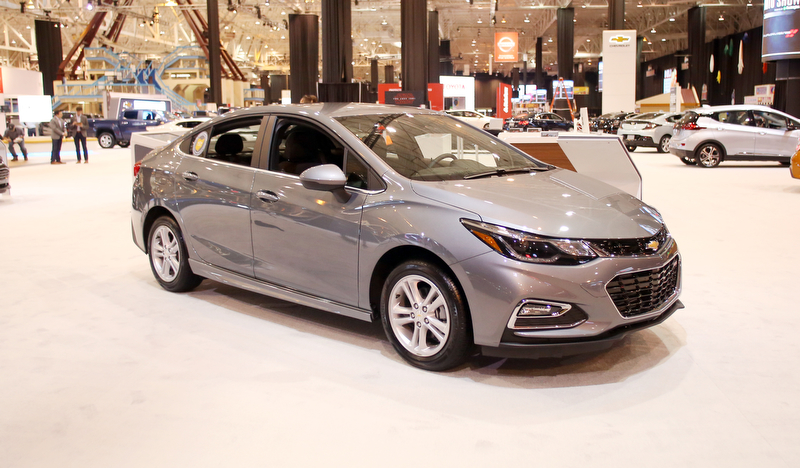 ---
By Kalea Hall
LORDSTOWN
The struggle of the compact car continued in February.
The Lordstown-built Chevrolet Cruze had 9,947 sales in February 2018, down 21 percent from last February's sales of 12,623, General Motors said Thursday.
The Mexico-built Cruze Hatchback had 2,928 sales for a 6.7 percent year-over-year increase from 2,744 sales made in February 2017.
The sales drop in February marks 10 consecutive months of sales declines for the locally built Cruze sedan.
The Cruze "is not alone in the declines," said Jessica Caldwell, Edmunds executive director of industry analysis.
The Cruze's competition, the Ford Focus, saw a 3.1 percent year-over-year decline in February sales; and the Honda Civic saw a 4.5 percent decline.
"We are seeing across-the-board car sales are down," said Charlie Chesbrough, senior economist for Cox Automotive. "That trend is a trend that we have seen."
Caldwell noted GM, unlike other automakers, hasn't talked much about changing its car lines. Last June, Ford said it would shift production of its compact car, the Focus, to China in 2019.
Fiat Chrysler Automobiles stopped building the Dodge Dart in October 2016 and the Chrysler 200 in December 2016.
"I still think GM probably feels like [the Cruze] is a viable product," Caldwell said.
Michelle Krebs, executive analyst for Autotrader, noted sales were soft across other segments of the market including trucks in February.
"January and February are low-selling months," Krebs said. "We should pay much closer attention to the spring-selling months."
GM sold 220,905 cars, crossovers and trucks to U.S. customers in February, a 7 percent decline from February 2017 sales.
Ford sales were also down by 7 percent to 194,132.
Honda sales were down 5 percent to 115,557.
Fiat Chrysler Automobiles U.S. LLC sales were down 1 percent to 165,903 vehicles in February 2018.
Meanwhile, Toyota saw a 4.5 percent increase in sales to 182,195.
February 2017 and 2018 both had 24 selling days.
"Overall, the sales are bobbing around at a pretty respectable level," Caldwell said. "[Automakers] are still having profitable sales at this rate."
For the year, Cox Automotive predicts total sales to decline to 16.7 million from 17.1 million in 2017. Edmunds predicts total 2018 sales of 16.8 million.
This year would be the second year in a row of sales declines after the industry saw seven consecutive years of sales growth.
More like this from vindy.com