Bulldogs fight off improved Irish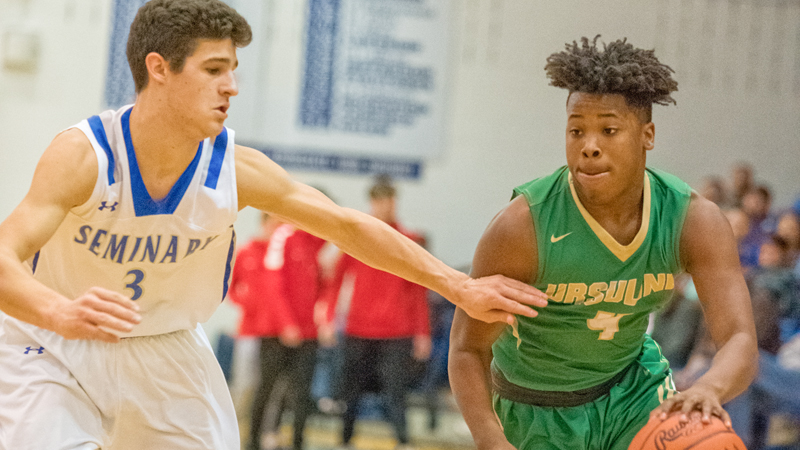 ---
Poland vs. Ursuline Basketball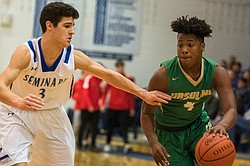 Gallery
The boys basketball teams from Poland and Ursuline faced off on Friday March 2, 2018. Photos are by Dianna Oatridge.
By BRIAN DZENIS
bdzenis@vindy.com
POLAND
Two years passed since Ursuline defeated Poland for a Division II district title and for the rematch, the circumstances couldn't have been more different.
The top-seeded Bulldogs hosted the ninth-seeded Irish on Friday night and while they got their revenge with a 68-47 victory, coach Ken Grisdale's assessment of Ursuline hasn't changed since the two sides last met.
"If they're the ninth seed in our district, holy smokes. That's crazy," Grisdale said. "They go to this new seeding situation and for us to get stuck with Ursuline in our first game? There's some good teams in our district, but that was a district finals matchup."
Ursuline (9-15) started the season 2-13 before things started to click. On Friday, the Irish were able to keep the game close to single digits until the end of the fourth quarter.
"We started out with hardly any wins, but we started to play really well in the second half and when you play five or six sophomores, that's part of it," Ursuline coach Keith Gunther said. "I don't know any teams that are pushing to win their district playing six sophomores.
"I thought their improvement to the point where they could play in a game like this takes our hat off to our kids and how hard they're working."
All of Poland's scoring came from four players. Dan Kramer led the Bulldogs with 21 points and Braeden O'Shaugnessy put up 19.
Rounding out the foursome was Brandon Barringer's 11 and Mike Diaz's nine points. The Bulldogs deployed a zone defense early to prevent the Irish from consistently going inside.
"[The zone] kind of messed with them a little bit. We saw them play Salem on Tuesday and they struggled in the first quarter against zone, but they figured it out and started playing well," Grisdale said.
"I thought if we could mix in some zone, we could catch them off-guard and slow down [RJ Clark]."
Clark was keeping the Irish afloat with 16 first-half points, but Poland (22-1) responded by limiting him to just a 3-pointer in the second half.
"He was really hurting us. He was getting 3s and anything he wanted," O'Shaugnessy said. "We came out wanting to pressure him a lot and backed off some of their other guys a little."
Vince Armeni stepped up in the second half
by scoring 10 of his 13 points in that stretch. Ursuline trailed 52-39 in third quarter, but after going scoreless for nearly four minutes in the fourth quarter, the contest was decided.
"Coach said in the lockerroom that he felt like I didn't shoot the ball enough," Clark said. "That 3-2 or 2-3 zone [Poland] had was bothering me. The only other time we saw that much zone was in our last game against Salem."
The outlook for Ursuline is a lot more bright for the 2018-19 season that it was for this year, with the Irish returning seven lettermen, which includes Clark and Armeni.
"We learned we have to play as a team and play defense," Clark said. "You look at the last four teams that won districts, they all played good defense."
Poland plays fifth-seed Lakeview at 7 p.m. Wednesday at Boardman High School. Lakeview beat Hubbard, 50-40.
More like this from vindy.com