Waterfalls, cascades among Mill Creek Park's features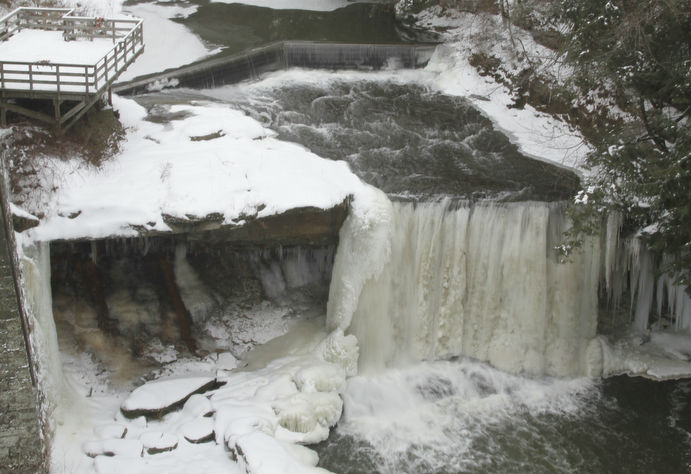 ---
By JIM THORNTON
Ohio certified volunteer naturalist
CANFIELD
Mill Creek Park has many interesting features, and among them are waterfalls and cascades. Have you wondered how these features formed?
There are differences between Lanterman's Falls on Mill Creek, The Cascades on Cascade Run and the Boulders in the Bears Den area.
In the case of a waterfall, a stream with sufficient force runs into a variety of types of rock or different patterns and layers. The gorge area at Lanterman's Falls has various layers of Pennsylvania sandstone and shales.
As the creek flowed over the harder rock, it eroded the softer layers of rock below. This undermined the harder rock above, leaving the "umbrella rocks" and ledges. This is similar to what we now find at the falls and along the side of the gorge area, which eventually collapsed. This pattern repeated itself as the stream moved up the gorge area.
The Cascades are a case of a Mill Creek tributary with a much lower flow cutting through a more consistently constructed sandstone area. This resulted in numerous smaller "falls" or "cascades" along the tributary.
Bears Den Run cut its way down to Mill Creek in a different manner. Many people think the large rocks in the Bears Den area are leftovers from rock quarrying. While there are old quarries on either side of the creek, the large rocks in the middle were the result of natural forces.
When Bears Den Run started working its way to Mill Creek, it found a soft layer of rocks and shales under the upper layer of sandstone and eroded this soft layer removing the support for the sandstone, which collapsed, resulting in the large boulders we see today. The comparison that sticks with me is hollowing out all of the filling of a pie and watching the upper crust tumble down.
Bears Den Run also created another favorite Mill Creek Park location – the Lily Pond. The current streams in the park are all post-glacial and either make their own way through the rock as described above or have found the route of a pre-glacial waterway.
On its way to Mill Creek, Bears Den Run was blocked originally by Birch and Hemlock hills, which were connected by loose fill deposited there by glaciers. Bears Den Run found the routes of old steams through the Lily Pond area until it eventually cut through Hemlock Hill and abandoned the pond. The park created the pond in 1896 using a small dam that trapped water from rain and hillside springs.
Did you know all the lakes in Mill Creek Park are artificial? For information on Ohio geology go to http://go.osu.edu/geology.
More like this from vindy.com